Audio: Minister Pankaja Munde allegedly threatens priest, warns of 'false cases'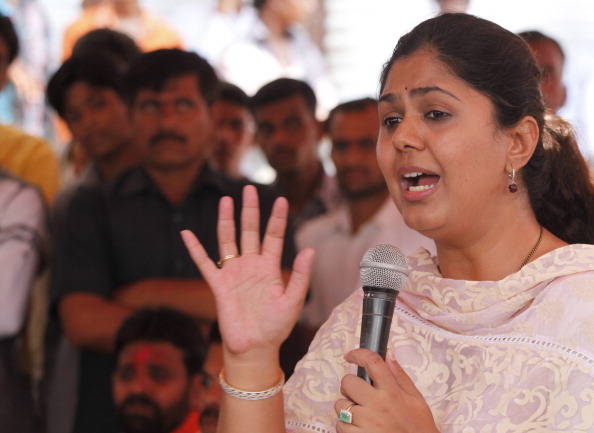 Maharashtra minister Pankaja Munde is facing allegations of threatening a priest of the Bhagwangad hill shrine in Ahmednagar district, after an unverified audio clip of the conversation leaked to the media. Munde wanted the priest to allow her to make a speech on Dusshera.
In the still to be verified clip, Munde is heard saying that false cases would be lodged against the supporters of Namdev Shastri Maharaj in Parli who opposes her.
She also states that she can buy anyone she wishes from the money provided for '25-15′ – a scheme meant for funding small works in rural areas. Munde is the minister for Rural Development, Women and Child Welfare.
"I have told my people that we do not want to fight until the 11th (October). I can buy you (people) out but don't want to do that. Whatever I have given you in the past I have given with you asking. You remember me giving you money out of 25-15? Now I won't give you money," Pankaja is allegedly heard saying.
"What is to be done with Namdev Shastri is a matter to be thought about in the future. We have to get the Dussehra celebrations done and thus do not want anything wrong to happen from our end," she adss in the purported audio clip.
"We are also not simple. Our men can beat people up in Parli and get false cases lodged against them and forced to leave the place," she is heard saying.
Responding to the audio clip, Leader of Opposition in the Legislative Council Dhananjay Munde said this is 'blatant abuse' of power by the minister and that she should be immediately removed from her post.
"The audio we heard of hers is very serious. People responsible for making laws are talking about taking laws into their own hands. She has no right to remain as a minister now," Dhananjay said.
He further said she is 'cheating' the government by talking about buying people from a scheme meant for people's uplift.
"We hope that at least now the CM does not continue with his clean chit drama," he said.
While Munde remained unavailable for comment, her Personal Secretary said she has refused to comment over the issue.
Earlier this year, Munde was under fire for posting selfies during her tour of drought-hit Latur.
Audio: