Forbes announces India's 100 richest, Mukesh Ambani on top for 9th year in row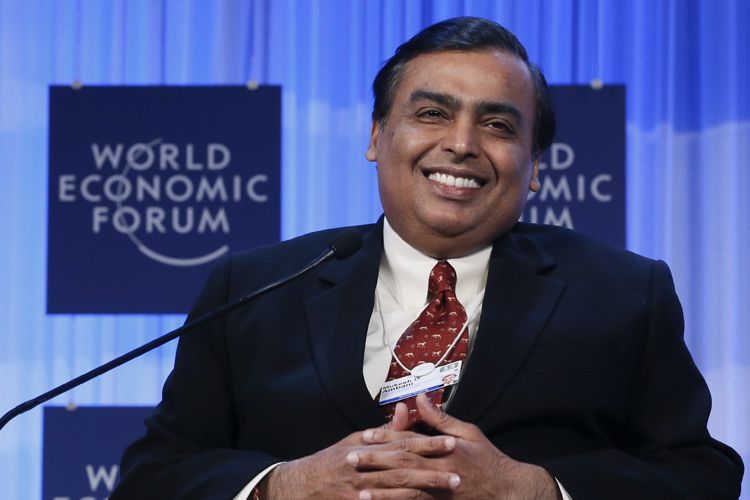 Reliance Industries Chairman Mukesh Ambani was on Thursday named India's richest person for a ninth year in a row with a sharp increase in net worth to USD 22.7 billion, while Sun Pharma's Dilip Shanghvi was ranked a distant second with a wealth of USD 16.9 billion.
The Hinduja Family moved up to the third position (USD 15.2 billion) on the annual Forbes list of India's 100 Richest People. Wipro's Azim Premji slipped one place to fourth with a networth of USD 15 billion.
Patanjali Ayurved's Acharya Balkrishna, known as a close associate of yoga guru Ramdev, has made a surprise entry at the 48th position with a networth of USD 2.5 billion on the list compiled by the American business magazine known for its rich lists.
Forbes said the combined networth of India's 100 wealthiest is USD 381 billion (nearly Rs 25.5 lakh crore), a rise of 10 per cent from USD 345 billion in 2015.
Mukesh Ambani's wealth rose in the past one year from USD 18.9 billion to USD 22.7 billion (over Rs 1.5 lakh crore) on 21 per cent surge in share price of Reliance Industries, the flagship company of his group, which recently launched 4G mobile services with much fanfare. He was ranked 36th in the global rich list.
Younger brother Anil Ambani was ranked 32nd with a networth of USD 3.4 billion, down from 29th spot last year.
Shanghvi also retained his second position, though his wealth fell by USD 1.1 billion due to plunge in share price of his group firm Sun Pharma, the world's fifth largest generic drug maker, Forbes said.
Hinduja brothers rose to the third spot by displacing Premji and saw their worth rising to USD 15.2 billion, from USD 14.8 a year ago.
"In a post-Brexit world, India appears a steady ship with an economy growing at 7 per cent-plus. The majority of India's 100 richest have notched up handsome gains as their companies have outperformed the stock market in the past year. As the domestic investment cycle starts kicking in, we can expect more gains and new names in the future," Forbes Asia's India Editor Naazneen Karmali said about the list.
Forbes also said the fortunes of cement and paint tycoons in the country benefitted from the government's infrastructure push and housing-for-all policy.
Shree Cement's Benu Gopal Bangur moved up to the 14th place with a networth of USD 5.9 billion, while Asian Paints' Ashwin Dani saw his wealth rise to USD 3.3 billion to rank him 34th.
As many as 15 people, including these two, saw their wealth rise by more than USD 1 billion.
Sourav Majumdar, Editor, Forbes India, said: "This year's list sees a rise in the overall wealth of the country's top 100 billionaires, in line with the movement of the markets. While the composition at the top of the list remains largely unchanged, the distribution of wealth within the list continues, with the top 20 now contributing 52 percent of the total, down from 55 percent last year."
Forbes' 100-richest for 2016 saw eight persons rejoining the ranks. Besides, there are six newcomers including serial entrepreneurs and brothers Bhavin and Divyank Turakhia (95th, USD 1.3 billion), who sold their ad tech firm Media.Net for USD 900 million to a consortium of Chinese investors.
Balkrishna made his debut at 48th place (USD 2.5 billion), 'thanks to his 97 per cent holding in fast-growing consumer goods outfit Patanjali Ayurved, which he co-founded with yoga guru Baba Ramdev.'
The minimum amount required to make the list was USD 1.25 billion, up from USD 1.1 billion in 2015. There were 13 drop-offs from the last year, including textile figure Balkrishan Goenka and co-founders of Flipkart, Sachin Bansal and Binny Bansal.
Forbes said the list was compiled using shareholding and financial information obtained from the families and individuals, stock exchanges, analysts and regulators.
The ranking lists family fortunes, including those shared among extended families such as the Godrej and Bajaj families. Public fortunes were calculated based on stock prices and exchange rates as of September 9. Private companies were valued based on similar companies that are publicly traded.
The magazine also gave a disclaimer that Reliance Industries is the owner of Network 18, publisher of Forbes India.
With PTI inputs