Game Changer: 9 things that separate Reliance Jio from the rest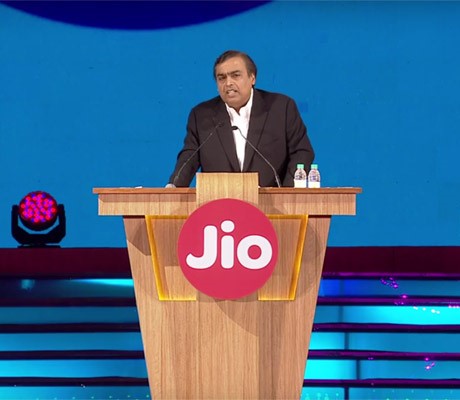 On Wednesday, Reliance Industries Limited (RIL) chairman Mukesh Ambani announced the launch of Reliance Jio service during the company's 42nd Annual General Meeting in Mumbai.
The promise of a never before pricing for data and free voice calls, something the Indian market hasn't witnessed before, had already piqued user's interest. The long queues for availing the Jio SIM cards are a testament to the hype created around the launch of the country's largest 4G network.
Ambani launched the highly anticipated Reliance Jio 4G service to the nation today, calling it an effort to fulfil the Digital India dream of Prime Minister Narendra Modi.
Here are 9 key aspects that separate Reliance Jio from all the existing telecom providers:
# Free Voice Calls
Jio will be the first telecom provider to offer free voice calls across India. There is no concept of national roaming charges, only international roaming charges are applicable.
# Built For Data
Unlike all existing telecom providers, Jio is not built for voice. It has created all-IP network centered around the ever growing data needs of the Indian populace.
# Cheapest Data Plans
With Jio, data plans start from Rs 149/month. In addition, while other providers offer data packs for 2G/3G for Rs 150 to 250 per GB, Jio will offer customers 4G data at Rs 50 per GB. It will also offer unlimited 4G data at night.
# Maximum Coverage
Jio is the largest only 4G LTE network in the world and will cover 90% of India's population by March 2017, with presence in over 18,000 cities and 2 lakh villages.
# No Blackout Days, No Surge Pricing
Unlike other telcos, Jio users will not have any blackout days or surge pricing on busy days (e.g. free SMS on Diwali & New Year).
# Future Ready
With its recent investment in telecommunication infrastructure, the network is future ready for technological advances to 5G, 6G and beyond. The data capacity is also burstable, implying it can support more data when users and consumption increases.
# Simple Tariff Plans
Unlike most telcos, which offer a wide range of plans depending on the user's voice and data usage, Jio will offer just 10 tariff plans based on data alone. The plans are extremely simple to follow and don't overburden users with excessive options.
# Student Centric
Jio will offer 25 percent extra data to all students who opt for their plans. The company also has plans to put up wifi hotspots in educational institutions across the country.
# Free Till December 31
While this might not stay relevant in the future, users who opt for Jio today will have to pay zero charges for voice or data till December 31, 2016. It's premium apps like JioPlay, JioOnDemand, JioBeats, JioMags and JioSecurity, JioMoney etc however will stay free till end of 2017.