Great Khali on his early struggle, big break and starting his own wrestling academy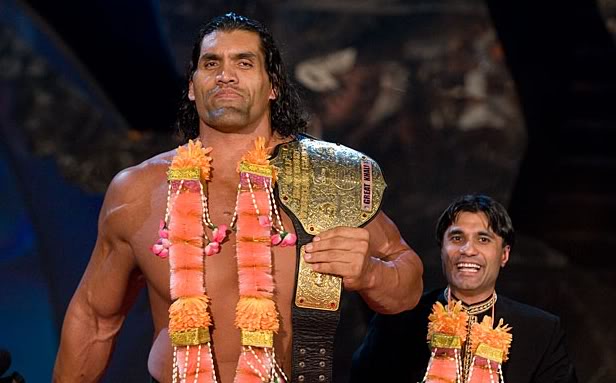 After conquering the world of sports entertainment in the US, Dalip Singh Rana, more commonly known as the 'The Great Khali', is now focused on helping other World Wrestling Entertainment (WWE) aspirants from India realise their dreams.
"I have opened an academy in Jalandhar which has around 200-250 students from different states. Initially, I was somewhat apprehensive about the kind of response I will get in India and whether the academy will be successful. I did face some difficulties in the beginning, but now I am confident that pro-wrestling has a bright future in India," Khali told IANS in an interview.
"We have the highest number of trainees in any pro-wrestling academy in the world. Most academies only have around 15-16 trainees. Most people in pro-wrestling circles abroad are amazed when I tell them that I have more than 200-250 trainees in my academy," he added.
Encouraged by the response in Punjab, the 44-year-old has now set his sight on tapping talent in Haryana. To do that, Khali's academy – Continental Wrestling Entertainment (CWE) – will organise a couple of shows in the state next month.
The first CWE pro wrestling event in Haryana will be held at the Tau Devi Lal Stadium in Gurgaon on October 8 while a similar show is to be held in Panipat on October 12.
"Haryana is the top state in India as far as wrestling is concerned. I had met the Chief Minister of Haryana (M.L. Khattar) around a month ago and he had requested me to popularise pro-wrestling in the state. With the kind of wrestling talent available in Haryana, I am sure that the state will produce several WWE stars if the sport becomes popular there," Khali said.
"Among the trainees in my academy, 35 are ready to become pro-wrestlers. They will take part in these two events along with 16 foreign wrestlers," he added. "We will conduct many more events such as the one in Haryana as it will give them practice as well as help them to prepare for shows in front of big crowds."
Born in a family of labourers and daily wage earners in Dhirana village, in Sirmaur district of Himachal Pradesh, Khali faced a lot of adversity during his youth due to his poor financial background. He worked as a labourer before finding a job as a security guard when a senior officer from the Punjab Police spotted him and offered to recruit him and his brother.
Khali later shifted base to the Punjab Police centre in Jalandhar where he started to train as a bodybuilder, going on win the Mr. India title twice.
The Great Khali suffers from acromegaly, a condition that results from excess growth hormone even after the growth plates have closed in the body. As a result, he has grown to a height of seven-feet-one-inch and has a 63-inch chest with 25-inch biceps. The gentle giant wears shoes 22 inches long.
"I had to overcome a lot of obstacles before finding success. Apart from the lack of training facilities and good coaches, diet was also a big problem due to financial constraints," said the giant.
"Because of my size and tough training schedule, I was required to take huge amounts of protein everyday. I used to eat five chickens and around 40 eggs daily in order to fulfill my protein requirements, apart from vegetables and carbohydrates. But even that was not enough. Due to lack of funds, it was difficult to meet all my dietary needs," Khali added.
"I want to ensure that my trainees never face such problems. My academy is the best in the world in terms of facilities and quality of coaching. I even train those from poor families free of cost."
Khali overcame initial opposition from his seniors in the Punjab Police to eventually move to the United States where he trained to become a professional wrestler. He plied his trade with several pro-wrestling circuits in the US and Japan.
Khali's big break came in 2006 when he signed a contract with WWE, the biggest and most popular pro-wrestling circuit which featured the likes of Undertaker and other stars.
"There was no money in bodybuilding so I decided to take up pro-wrestling. Punjab Police were initially reluctant to let me go as they thought that people get beaten up and are injured very badly in pro-wrestling matches. But I managed to convince them.
"My life in the US was initially very lonely as I was the only Indian in the wrestling academy. I had very few friends and did not know too much English. Coming from a small village in the mountains of Himachal Pradesh, it was extremely difficult to adjust to life in the US and Japan.
"Things started to look up after I bagged a role in a Hollywood film called 'The Longest Yard'. Then the contract with WWE happened which changed my life completely," Khali reminisced.
"My first appearance in WWE was as an opponent of the legendary Undertaker. I had a poster of Undertaker in my room at the Punjab Police centre in Jalandhar. He was one of my heroes and I was excited to face him in my WWE debut," he added.
"Although I eventually found success, the initial years of my life and the days of struggle in the US were too difficult. Through my academy, I want to ensure that my students get the best training and are well prepared for the pro wrestling circuit. Their path to pro wrestling stardom should not be as difficult as mine was."
Two of Khali's disciples, Satendar Dagar and Lovepreet Sangha, have signed contracts with WWE and their guru is confident that more aspirants from India will follow the duo.
"Both Satendar and Lovepreet have got their break a bit late in life. Satendar is around 35 years of age while Lovepreet is around 30. Ideally a pro-wrestler should start his career at around 24-25 years," Khali said.
IANS