Rahul Gandhi gets ridiculed on Twitter after Congress loses in Assembly elections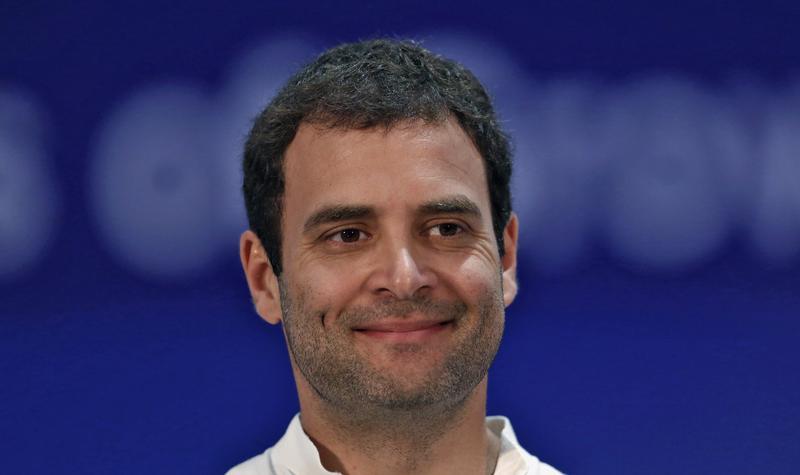 Today's Assembly election results for the states of Assam, Kerala, West Bengal and Tamil Nadu proved to be another blow for Congress.
In Assam, the party squandered against the BJP while in Kerala they lost to the Left Democratic Front. Now, Mamata Banerjee aka Didi and J Jayalalithaa aka Amma will retain their positions as chief ministers of West Bengal and Tamil Nadu respectively.
Post the results, Rahul Gandhi, Vice President of the Congress party, took to micro-blogging site Twitter admitting his defeat and made a promise to work harder. But Gandhi, who is a 'favorite' among Twitterati, ended up getting ridiculed on the platform despite all his sincerity.
Twitter stormed into action, making jokes on the current state of the once-prominent Indian National Congress and Rahul Gandhi.
We have picked the best of the lot right here:
Rahul Gandhi's dream of women empowerment is coming true

As Amma and Didi retains their positions.#Election2016 #TamiNadu #WestBengal

— Saurabh Shekhar (@TheSShekharsays) May 19, 2016
#FakingNews #RahulGandhi becomes #RTI activist. I mean, Return To Italy (after today's election results 😛 #TongueInCheek

— NarayanShastri (@NarayanShastri) May 19, 2016
why #RahulGandhi remains essential ingredient to cook exotic recipe called कॉंगरेस मुक्त भारत ? Watch for next 1001 tweets with patience

— Ashok Garekar (@DrGarekar) May 19, 2016
Young generation must learn from Rahul Gandhi's determination how 2 finish their own political career and party's pic.twitter.com/rpJHJidrbO

— TheFrustratedIndian (@FrustIndian) May 19, 2016
#Verdict16 achieved. Now Rahul Gandhi to leave for Bangkok soon to introspect on finishing Congress in Punjab, Uttarakhand, UP & HP next.

— Roý (@MixedRaita) May 19, 2016
Thank you Rahul Gandhi ????

This was not possible without you.#Verdict16 pic.twitter.com/tZM1ugk1WL

— डिग्रीBaba (@rkgeemail) May 19, 2016
Rahul Gandhi wins 5 seats. Incredible. pic.twitter.com/uJI3OhIUTB

— Gabbbar (@GabbbarSingh) May 19, 2016
TV channels should include Congress in 'Others' #Verdict16

— Ra_Bies (@Ra_Bies) May 19, 2016
Last night in the morning when I was awake, Gandhi ji came in my dream, kissed me and said – pic.twitter.com/Ucb66RuyQ3

— Rahul Gandhi (@RahuIGandhi) May 19, 2016
You'll soon come to know that Rahul Gandhi has left for Bangkok to introspect

— Ra_Bies (@Ra_Bies) May 19, 2016
Modi uncle must appreciate that I'm working so hard to fulfil his dream of congress mukt Bharat. Today 2 more states will be congress mukt.

— Rahul Gandhi (@RahuIGandhi) May 19, 2016
Breaking Now:- PM Modi and Rajnath Singh thanking Rahul Gandhi for ensuring Congress Mukt Bharat https://t.co/SgDcxunmfu

— Dhaval Patel (@dhaval241086) May 19, 2016
How is the Rahul Gandhi Wave doing? Sweeping polls?

— Gabbbar (@GabbbarSingh) May 19, 2016
Modi ji looking for states where Congress is in power.#Verdict16 One more steps towards #CongressMuktBharat
Jai ho! pic.twitter.com/yxERNAA7oe

— Pranay Prakash (@EncountersSam) May 19, 2016
Sanjay Jha – Rahul Gandhi's hardwork is paying off

Reporter – Sir, congress lost the elections

Sanjay Jha – Kal IPL ka match mast hua na?

— Sagarcasm (@sagarcasm) May 19, 2016
Truth be told. The Congress' performance has nothing to do with RAHUL Gandhi. It is the El Niño effect combined with Mount Etna's eruption.

— SUHEL SETH (@suhelseth) May 19, 2016