2 dead, 20 injured in bus accident on Mumbai-Pune Expressway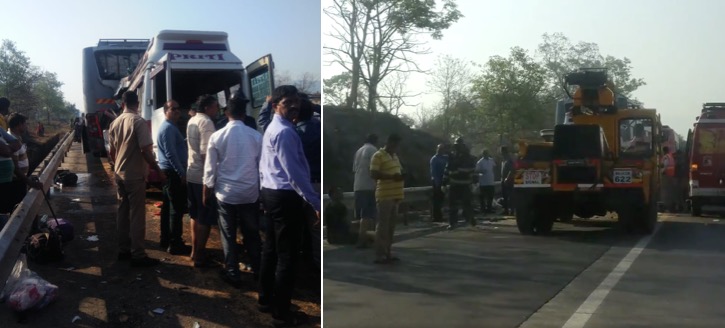 At least two people were killed and 20 others sustained injuries after two buses collided on the busy Mumbai-Pune Highway near Khalapur on Monday morning.
According to preliminary information, a minibus rammed into a stationary tourist bus around 8 am near Madap tunnel. What caused the minibus to ram into the other vehicle, however, is not yet known.
Following the mishap, state police and emergency units arrived on the spot for relief and rescue work. The teams rushed the injured persons to a nearby hospital for treatment.
A bus bumped into another, lost lives, at mumbai pune Express highway, before khalapur toll #driveslow #safetyfirst #mumbai #besafe pic.twitter.com/DBgaVu0OPC

— Ravi Sant (@itsravie) May 20, 2019
Details about their present condition and their identities are not known as of publishing this report.
Since the mishap took place on the Pune-bound road, traffic movement towards the city has been affected.
Further details are awaited.
Related: Mumbai-Pune expressway to remain shut for 1.5 hours daily for 7 days