5 die in car accident near Patilwadi on Mahim-Palghar road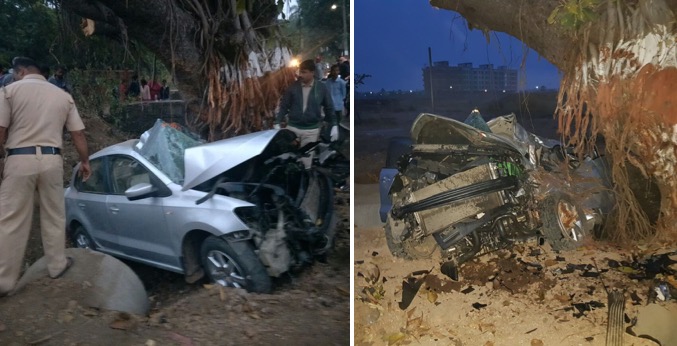 In a tragic incident, five people travelling in a private car were killed after their vehicle rammed into a tree near Patilwadi on the Mahim-Palghar road early morning on Wednesday.
The incident took place around 3:30 am today when the occupants heading towards Palghar after attending a wedding party in Vadrai village.
According to preliminary information, the driver of the Volkswagen Vento (MH-48-A-0696) lost control of the speeding vehicle near the Patilwadi turn and ended up ramming it into a banyan tree alongside the road.
All five occupants, identified as Nikesh Mohan Tamore (25), Kiran Parshuram Paghdare (30), Santosh Vaman Bahiram (37), Dipesh Raghunath Paghdare (25) and Viraj Arjun Vetal (25), died on the spot.
Constable Prakash Raut from Satpati police station reportedly saw the car in the ditch while heading to work and called for an ambulance.
The occupants were subsequently removed from the car and taken to the Palghar rural hospital, where they were declared dead on arrival. The bodies were later sent to the Palghar primary health centre for an autopsy.
The autopsy report is awaited. Meanwhile, a case has been registered at the Satpati police station.