CM inaugurates plastic bottles disposal unit at Mantralaya, to tackle 2000 waste bottles every day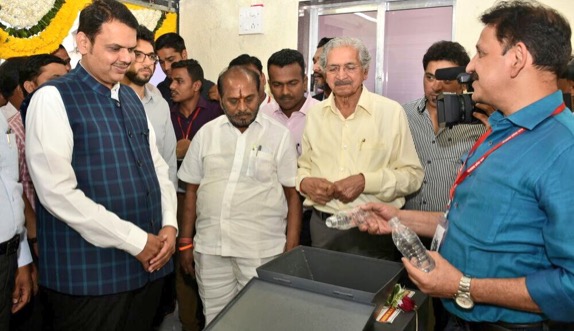 In the backdrop of the plastic ban in the state, Maharashtra Chief Minister Devendra Fadnavis on Thursday inaugurated a plastic bottle disposal unit at Mantralaya in Mumbai's Fort area.
An official notification on the ban will likely be issued any day now.
According to reports, around 2,000 empty plastic water bottles form a part of the total waste generated at Mantralaya every day, prompting officials to take up the issue.
Taking cognisance of the situation, Public Works Department, General Administration Department, and industries department decided to set up the water bottle disposal unit on the Mantralaya premises.
The unit was installed by the Water Bottle Manufacturers Association.
The unit was inaugurated by Fadnavis in the presence of Industries Minister Subhash Desai, Environment Minister Ramdas Kadam and Yuva Sena chief Aaditya Thackeray.
"It will help destroy the empty water bottles generated in Mantralaya and the crushed material can be reused for making other items. So, the plastic will not be considered as waste but a commodity," Desai was quoted saying.