CNG car rams into tree in Thane: Driver injured, gas leak contained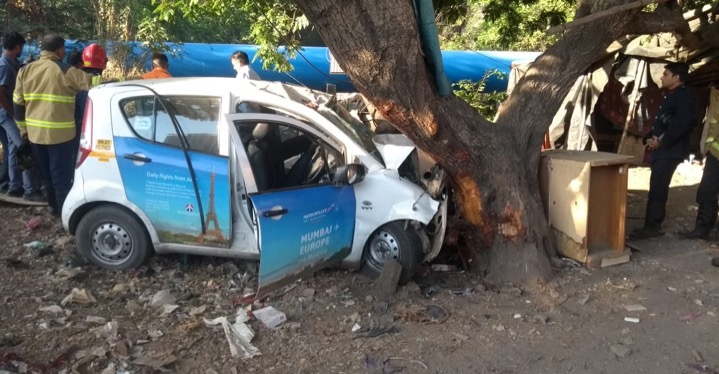 A major tragedy was averted on Thursday morning as officials were quick to respond to a mishap in which a CNG-fitted tourist vehicle rammed into a tree in Thane, causing some of the flammable gas to escape into the atmosphere.
According to officials, the incident took place earlier today when the driver of a Maruti Suzuki Ritz (MH 03 BC 7423) car lost control of the vehicle and rammed into a tree on the Mumbai-Nashik highway near Rutu Park in Thane West.
The impact of the crash reportedly caused some of the compressed natural gas (CNG) to leak into the air.
Within minutes, officials from nearby Kapurbawdi Police, Regional Disaster Management Committee (RDMC) and Mahanagar Gas (MGL) arrived on the spot.
They were also accompanied by Fire Brigade officials, who arrived with a fire engine and two rescue vehicles.
Police rushed the injured driver to the civic hospital while MGL officials successfully managed to close the CNG knob and contain the leak.
The driver, identified as Vishal Upadhyay, sustained major injuries in the mishap. He is still admitted to the hospital and details about his present condition are awaited.
The car is owned by Bhagwan Tours & Travels, who have been notified about the incident.