Pictures: Pawan Express hits dead end at LTT-Kurla Terminus, gets derailed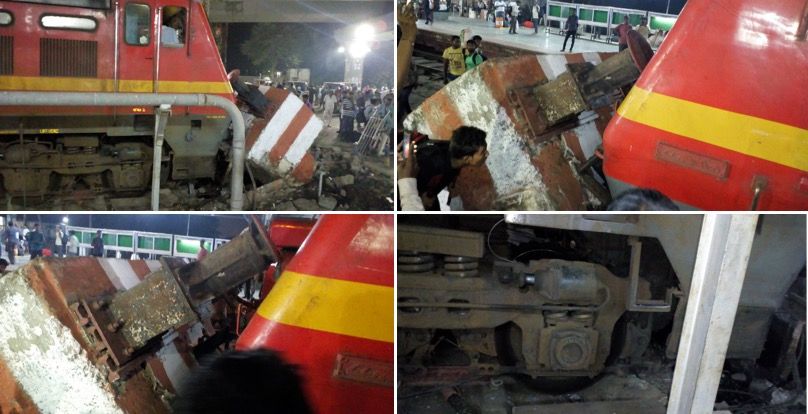 The locomotive/engine of the Mumbai-bound Pawan Express train hit a dead end at one of the platforms at Lokmanya Tilak Terminus (LTT) early morning on Monday.
The loco pilot of the long distance train, which runs between Kurla Terminus in Mumbai and Darbhanga in Bihar, is believed to have missed the signal and overshot the train, ramming it into the dead-end at platform 3.
While no one was injured in the mishap, which took place around 4 am today, the impact of the collision caused the train to derail – damaging the platform and a few trailing coaches.
A water pipeline concealed underneath the platform was also ruptured, spewing hundreds of litres of water on the track.
@RailMinIndia's Loco Of Pawan Express dashed @Central_Railway's LTT PF 3 Dead End. Due to that water pipeline damaged hundreds of litre water spread on track and nearby. @mid_day pic.twitter.com/e7mW0L3WgM

— Suraj Ojha (@surajojhaa) October 8, 2018
The incident, however, did not delay or affect the schedule of any long-distance or suburban trains.
Meanwhile, railway authorities have launched a probe to ascertain the exact cause of the accident.
Work on clearing the rake from the platform is underway as of publishing this report.
Further details about the incident, including an official update from Central Railway, are awaited.
In a similar incident, a suburban local had rammed into the dead end at Churchgate station in 2015, leaving five persons injured.
The loco pilot of the Bhayander-Churchgate local had allegedly hit the barrier due to a suspected brake failure.
---
Also Read: Passengers stole towels, bedsheets, blankets & pillows worth Rs 2.5 crore from trains in 2017: WR
---