Video: FOB collapses near Vashi creek bridge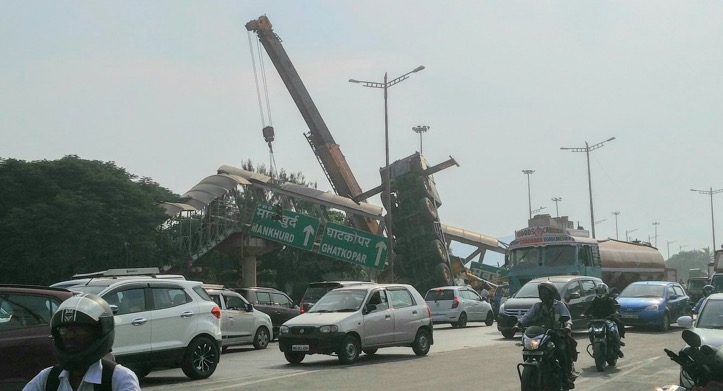 A foot-over-bridge (FOB) near Vashi Creek bridge collapsed on Sunday afternoon, affecting traffic movement on the busy Sion-Panvel highway.
According to preliminary information, the FOB was in the process of being dismantled when it collapsed and fell on the crane underneath.
The FOB's collapse also led the crane to overturn and get entangled in the debris, causing it to get suspended in the air.
(Video via Rachna Nayyar)

The incident affected the traffic movement on the south-bound lane towards Mumbai. The resultant queues extended for a few kilometres, going all the way back till the toll booth.
Officials from the traffic police are currently on the spot and work on removing the crane and clearing the debris is underway.
Motorists travelling towards Mumbai, meanwhile, have been stuck in traffic for over an hour as of publishing this report. The traffic movement on the other side was also affected after some cars tried to avoid traffic by travelling in the wrong lane.
As of 4:30 pm, traffic movement on both sides has been affected. Motorists are advised to travel via Airoli or delay travel by some time if possible.
Several affected motorists also took to social media to vent their ire.
Who is responsible to fix this traffic at the Vashi Mankhurd road.? Why do they plan to take down the FOB during the day at peak hours. @MumbaiPolice @Navimumpolice pic.twitter.com/pVKPndvS0w

— Krish Shah (@Hinglishman) October 7, 2018

No casualties have been reported as of publishing this report and further details are awaited.
---
Related: Unsafe Patri Pool ROB in Kalyan to be dismantled, Badlapur FOB to be shut for repairs
---