Police detain over 50 protestors from Dadar for 'unlawful assembly'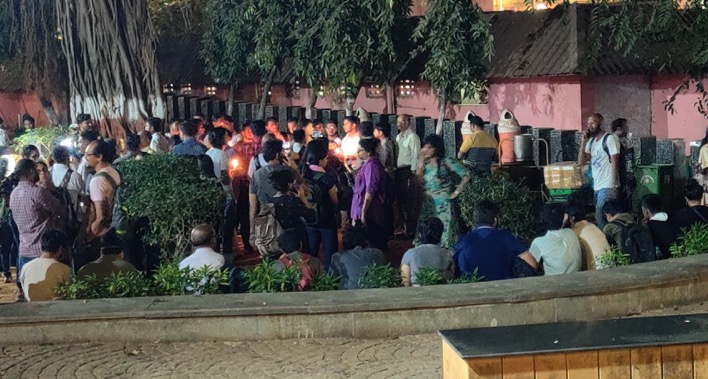 Over 50 people who had assembled at a garden in Mumbai's Dadar area to protest against the communal violence in Delhi were detained by police on Wednesday evening.
The protest was organised by the Joint Action Committee for Social Justice.
In a statement, the organisation said that it had planned to take out a candle-light march to Chaityabhoomi, Dr. B R Ambedkar's memorial. However, after police barricaded the road leading to the memorial, protesters gathered at Veer Kotwal Garden.
The police shut the protest despite the fact that it was silent in nature and did not cause any inconvenience to locals or traffic, it claimed.
Around 50 persons were detained briefly as they had not taken permission for the protest, an official from Shivaji Park police station said. All of them were allowed to leave after a few hours.
A similar protest was held by students at IIT-Bombay under the banner of 'IIT-Bombay for Justice' earlier in the day. A day prior, TISS Students' Union had held gathered on their campus to condemn the violence and appeal for peace.
Mumbai was put on high-alert earlier this week in wake of the violent clashes between pro-CAA and anti-CAA protestors in Delhi, which have claimed 34 lives as of Thursday morning.
"Mumbai has been put on a high alert after recent incidents of violence in Delhi. State Police has taken precautionary measures to maintain law and order," read a statement from the Maharashtra Home Ministry.
"Other than the designated area in Azad Maidan, no permission will be granted for any other protest in Mumbai," the statement said.