Railways unveils fare structure for Mumbai's first AC local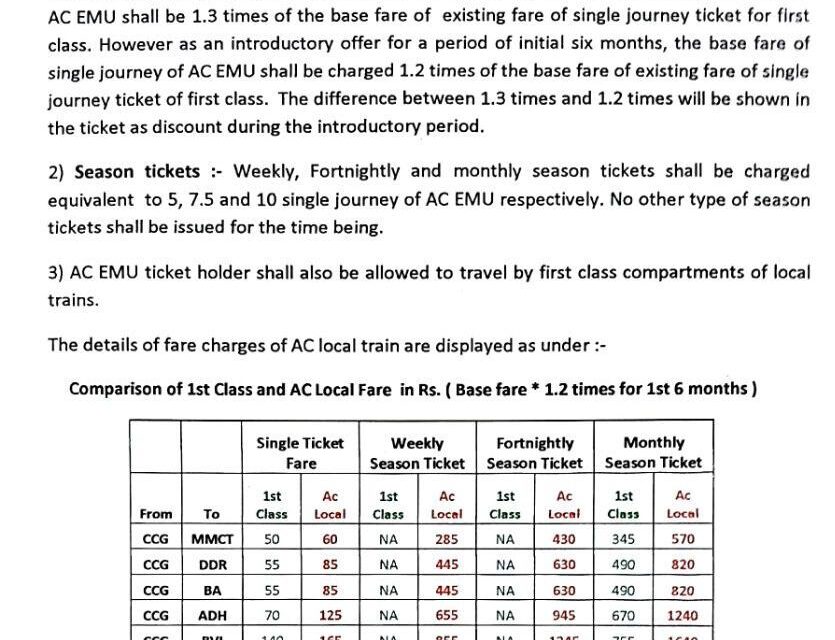 Western Railways unveiled the fare structure for the city's first AC local in a circular issued earlier today.
Fare Structure Highlights:
* Regular fares for AC local will be 1.3 times of existing first-class fare. The fare for single journeys will start from Rs 60 for Churchgate to Mumbai Central and go up till Rs 205 for Churchgate to Virar.
* Commuters will get a discounted rate for the first 6 months during which tickets will be priced at 1.2 times the base fare of regular first class tickets.
* Weekly, fortnightly, and monthly season tickets will be priced equivalent to 5, 7.5 and 10 single AC journeys, with fares till Virar fixed at Rs 1070, 1,555 and 2,040 respectively.
* AC local ticket-holders would be allowed to travel in the first class compartments of non-AC local trains.
* Like regular tickets, tickets for AC local will attract 5 percent GST.
MUMBAl AC LOCAL — Indian Railways fix fare structure for 1st AC EMU train service. Weekly, monthly, quarterly passes. Here's the official notification pic.twitter.com/mBAaI8bm8I

— Rajendra B. Aklekar (@rajtoday) December 23, 2017