Trailer overturns on Mumbai-Goa highway, traffic affected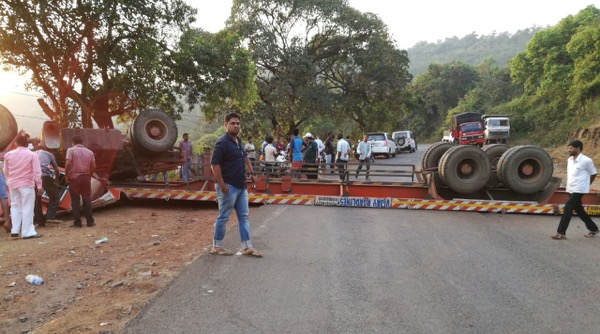 A trailer overturned on the Mumbai-Goa highway on Monday evening, affecting the flow of traffic on the route.
According to preliminary information, the trailer overturned after the driver lost control of the vehicle near Nivali Ghat area in Sangameshwar on the Mumbai-Goa highway around 7 pm today. The trailer is owned by Vijay Roadlines.
The driver was stuck inside the cabin after the accident as the impact caused the structure to collapse on itself. Bystanders were trying to rescue the driver as of publishing this report.
Local police have been alerted about the mishap, and a towing van and crane are expected to reach the spot soon.
The overturned trailer, which has covered a majority of the two-lane road, has brought traffic movement to a complete halt.
Further details are awaited.