Truck overturns on Lalbaug flyover, traffic affected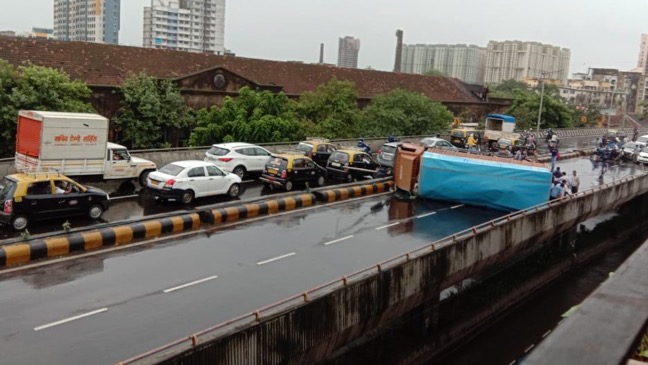 A truck overturned on the busy Lalbaug flyover on Dr. B.A. Road in Mumbai early morning on Friday, affecting the flow of traffic on the route.
The incident took place around 9 am today, when the truck was travelling on the north-bound lane towards Dadar. The driver reportedly lost control of the vehicle halfway on the flyover, causing it to overturn.
The goods carrier also crashed into a street lamp, which collapsed due to the impact of the collision. The wet road may have also contributed to the mishap.
The traffic control room was alerted about the incident by a motorist at 9:15 am, following which a team of Mumbai Fire Brigade and Traffic Police were dispatched to the spot.
Two persons, believed to be the truck's driver and helper, were injured and subsequently rushed to JJ hospital for treatment. Details on their present condition are awaited.
Meanwhile, vehicular movement towards Dadar was severely affected during morning peak hours, resulting in long queues going as far back as JJ flyover.
Although south-bound traffic, towards Fort, was not affected initially, the built-up traffic also led to traffic snarls on the lane by 10 am.
The truck was carrying Bisleri water cans, which were scattered on the road after it overturned. Work on clearing the truck and cargo is underway as of publishing this report.
Motorists travelling on the Western Express Highway also faced major delays earlier today due to traffic congestion.