Video: Fire breaks out at chemical factory near railway tracks in Ambernath, CR services affected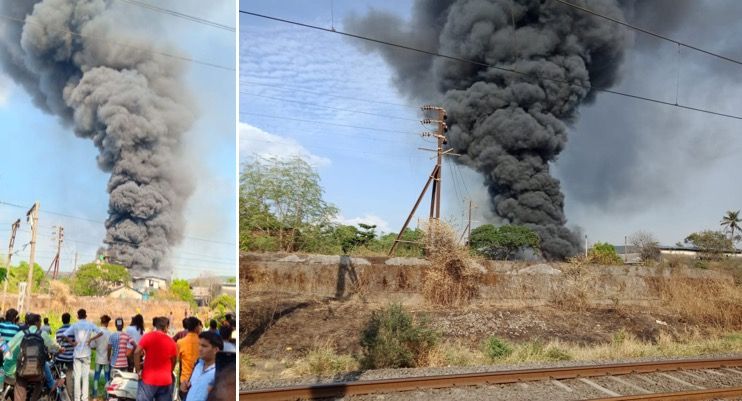 A massive fire broke out at a chemical factory situated near the tracks at Ambernath on Monday afternoon, affecting services on the Central line.
According to preliminary information, the fire broke out at a chemical factory at MIDC in Morivali Village, Ambernath (West) around 3:15 pm today.
By the time fire brigade was alerted about the mishap and arrived on the spot, the blaze spread. In no time, a thick cloud of smoke was seen emanating from the unit, covering a large portion of the area.
Officials from fire brigade are currently on spot with multiple fire tenders and work on dousing the flames is underway.
Since the unit is located close to the tracks, the movement of trains beyond Ambernath has been affected in wake of the heavy smoke.
"Due to fire in chemical factory between Ambernath and Badlapur, Railway Traffic on DOWN line has been stopped from 3:53 pm beyond Ambernath due to heavy smoke as a precautionary measure," said Sunil Udasi, CPRO Central Railway.
The cause of the fire is not yet known and no casualties have been reported as of publishing this report.
Further details are awaited.
Note: This is a developing story and will be updated with details as they become available.