Online registration for MHADA lottery 2018 begins: All you need to know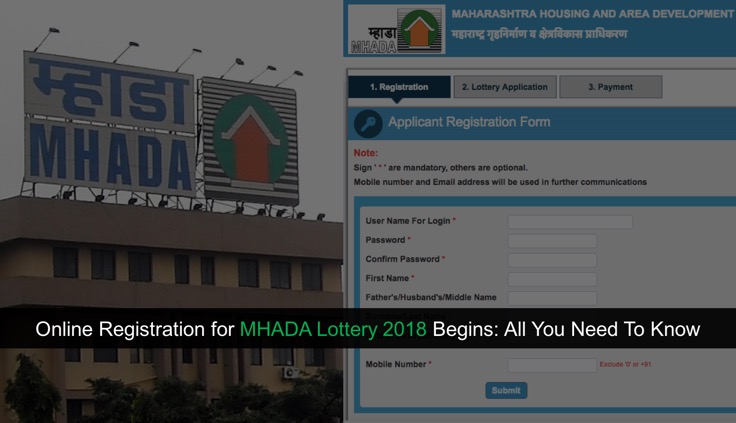 The online registration for the Maharashtra Housing and Area Development Authority (MHADA) lottery began on Monday.
MHADA is offering 1,384 low-cost houses in Mumbai, with prices ranging from Rs 14.6 lakh to Rs 5.8 crore. At Rs 14.6 lakh, the cheapest flat on offer is at Chandivli, while the most expensive one is at Dhavalgiri building at Cumballa Hill, priced at Rs 5.8 crore.
Applicants can start filling online forms starting at 2 pm today. The applications can be filled online at the official website of MHADA lottery.
The lottery entails houses in four different categories.
Houses costing Rs 20 lakh or below for the economically weaker section (EWS), Rs 20-35 lakh for lower income group (LIG), Rs 35-60 lakh for middle income group (MIG) and Rs 60 lakh-Rs 5.8 crore for the higher income group (HIG).
Those applying for flats in EWS category cannot have a monthly household income of more than Rs 25,000.
Similarly, those applying for LIG category need to have a monthly salary between Rs 25,000-50,000, MIG category between Rs 50,000-75,000 and those applying for HIC homes need to have monthly earnings of over Rs 75,000.
A total of 863 flats in EWS category, 126 in LIG, 201 in MIG and 194 in HIG are included in the lottery. Most flats are at Mankhurd (316), Antop Hill (278 flats), Gavhanpada in Mulund (269), Mahavir Nagar in Kandivli W (170), Tunga in Powai (101) and other areas.
The name of the scheme, description of tenements, carpet area, cost, and other details can be found here (clicking will download PDF).
Important Information:
Filling form:
* Visit https://lottery.mhada.gov.in/OnlineApplication/Mumbai/
* Click on the blue 'Register' button on the homepage OR visit registration page directly by clicking here
* Complete registration by creating a username/password combination and filling basic information
* Apply online by selecting lottery & scheme
* Print acknowledgment
* Make payment
Note: Applicants can refer to the 'Help' document on MHADA's website for more details on filling the form.
Important dates:
* Start date for filling the form: November 5 (from 2 pm)
* Last date for filling the form: December 10 (till 11:59 pm)
* Last date for making payment: December 10 (till 11:59 pm)
* Declaration of accepted applications: December 14
* Lottery draw: December 16 (from 10 am to 6 pm)
* Declaration of the list of winners: December 16 (6 pm)
* Refund of payment: December 18
Contacting MHADA:
For additional details, applicants can contact MHADA via the following ways:
* Website: https://lottery.mhada.gov.in/
* Helpline: 9869988000
* Email: [email protected]