Water pipeline bursts in Mazgaon, causes road to cave-in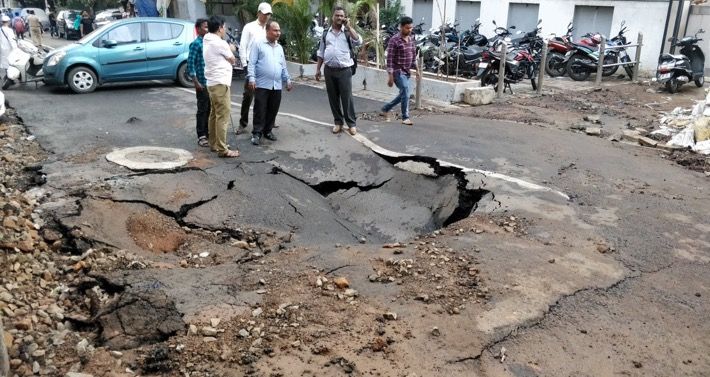 A part of an arterial road in Mumbai's Mazgaon area caved in on Tuesday afternoon after the underground water pipeline located underneath burst.
According to reports, the 24-inch pipeline in Tadwadi area burst around 3 pm yesterday. The pipeline is connected to Bhandarwada reservoir and supplies water to Mazgaon.
As soon as the pipeline burst, water started gushing on the road and the area was flooded. Fortunately, no untoward incident was reported due to the mishap.
@DisasterMgmtBMC @MumbaiPolice Mazgaon Tadwadi under deep water. Some major water burst. Pls chk. @mid_day pic.twitter.com/XyjimMuAGH

— Rajendra B. Aklekar (@rajtoday) March 19, 2019
Civic officials arrived on the spot a few minutes after the burst and began by shutting the supply in the area to curb wastage. After the supply was restricted, the affected area was barricaded and repair work began.
Work on fixing the pipeline was still underway as of early Wednesday morning. However, since the area receives water in the morning, the supply was not affected.
After the pipeline work completes, a BMC contractor will start the road repair work. Meanwhile, civic officials are yet to confirm the reason for the rupture.
Incidentally, this is the second major pipeline burst and road collapse in Mazgaon since August 2018. Back then, a 600 mm pipeline burst around the same time on August 25.
The incident comes at an unfortunate time for the city, which is already reeling under a 10 percent water cut due to shortage.