100 Karni Sena workers detained for protesting outside CBFC office in Peddar Road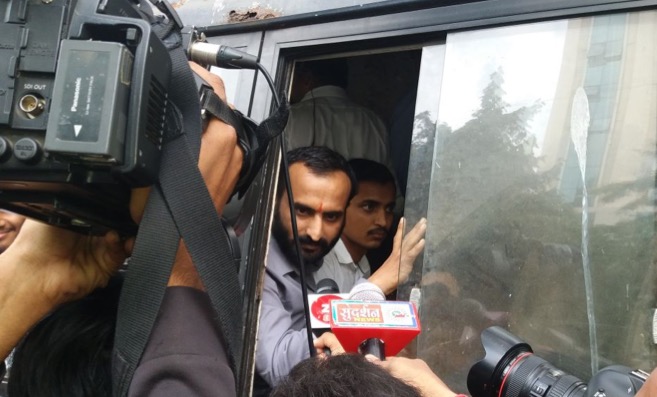 At least 100 members of the Shri Rajput Karni Sena were detained from Mumbai's Peddar Road area on Friday for protesting outside the Central Board of Film Certification (CBFC) office in connection with the release of film 'Padmavat'.
The protesters told media that changing the name of the film from 'Padmavati' to 'Padmavat' was not enough to warrant its release.
"The police are detaining us without any reason. We are not here for any type of rebellious activity, we just wanted to talk to the CBFC and tell them that Padmavat film violates the Indian history and request them to not release it," Prakash Singh Parmar, a Karni Sena worker, told ANI.
He added that the outfit was requesting the censor body that they should not do anything which in turn would hurt anyone's cultural beliefs.
"Therefore, we all came here to have a discussion but they have detained us. They have changed the name of the film but that does not change anything," Parmar stated.
Another Sena worker, Jeevan Singh Solanki told IANS that the group will not allow the film to release anywhere in the country.
"We will not stop here. We are going to urge our Prime Minister to ban the film because the movie will ruin the heritage and culture of Rajput community. The filmmaker has played with the sentiments of the Rajputs," Solanki added.
Meanwhile, Sanjay Leela Bhansali's magnum opus Padmavat was now set for its release on January 25 after the CBFC had recommended five modifications, including changing the title.
The movie features Deepika Padukone in the title role as Rani Padmavati, alongside Shahid Kapoor as Maharawal Ratan Singh and Ranveer Singh as Sultan Alauddin Khilji.
With agency inputs