2 new floating restaurants come up near Gateway of India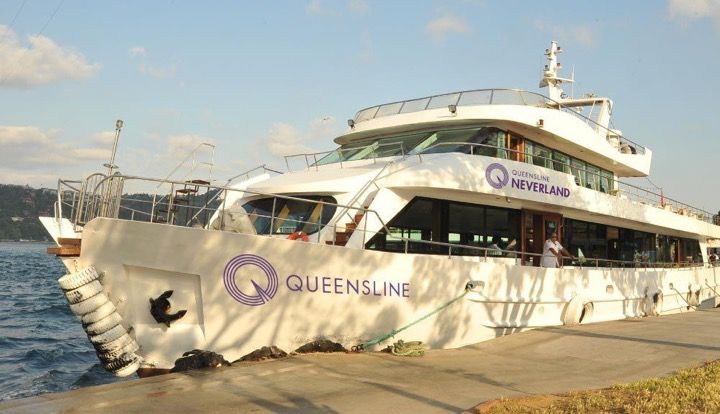 Union minister Nitin Gadkari will inaugurate two floating restaurants under the ongoing water-front development work at Mumbai Port in Mumbai on Saturday.
The two floating restaurants – Queensline Sea Yah and Queensline Neverland – have the capacity to accommodate 475 persons each and boast of open decks, multiple bars and banquet halls.
According to Shripriya Dalmia Thirani, who owns both ships, the floatels will remain operational from noon to midnight. The vessels were reportedly bought for 25 lakh each from Istanbul and refurbished at Mazgaon's Indira docks over the last year.
The floatels will start entertaining guests from Monday night, likely at a cover charge of Rs 2,500 per person. Patrons will be able to book slots online from their website www.queensline.in.
Since the restaurants are being run as a joint venture with Mumbai Port Trust (MbPT), a part of their revenue will be shared.
In total, licenses have been awarded for three floating restaurants. While Queensline Sea Yah and Queensline Neverland will be stationed near the Gateway of India, another one will come up at the sea off Girgaum Chowpatty later.
Gadkari will also participate in the Bhoomi Poojan ceremony of MbPT's new Eastern Water Front today, the shipping ministry said in a statement.
Additionally, the shipping minister will launch the Access Control and RFID System as well as development of Enterprise Resource Planning (ERP).
Gadkari will also launch invitation of tenders for Mumbai-Elephanta Ropeway and a Super Specialty Hospital at the Port.
The 8-km long Mumbai-Elephanta Ropeway would be the world's longest ropeway over sea. The project has been envisaged at a cost Rs 800 crore, and will be completed by August 2022.