CR successfully dismantles 'unsafe' Kalyan bridge, services resume before time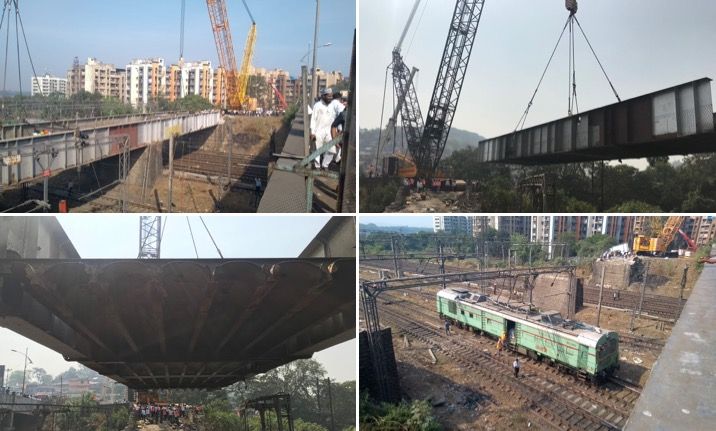 The Mumbai division of Central Railway (CR) successfully dismantled the century-old Patri Pul bridge, connecting Kalyan East and West, before time on Sunday.
The bridge is a part of the Kalyan-Shilphata stretch and used by thousands of motorists to travel between Dombivli, Bhiwandi, Thane, and Navi Mumbai.
While the road surface was dismantled without any block earlier, the bridge had two steel spans of 27-meter length. The girders, each weighing approximately 60 tonnes, were removed by two crawler cranes of 600 tonnes and 400 tonnes capacity.
Two major cranes of 120-tonne capacity were on standby throughout the operation.
Apart from heavy machinery, the work was made possible by a team of 250-300 persons – including 50 engineers, 200 workers, and several RPF personnel – all working under the leadership of CR General Manager, D K Sharma.
CR had announced a special traffic and power block from 9.30 am to 3.30 pm at Kalyan railway station for dismantling the bridge.
However, the work was completed an hour before schedule and services resumed at 2.40 pm. By 3 pm, both local and outstation trains had passed via the stretch. The entire operation was mapped and drone photographed for future reference.
According to S.K. Tiwari, Chief Administrative Officer (Construction), the department's meticulous advanced planning helped them complete the work before time.
The now dismantled Patri Pul was constructed in 1914. However, in wake of the growing traffic and the bridge nearing its codal life, a secondary bridge was constructed in 2001.
Back in July, a safety audit conducted by a team from IIT-Mumbai deemed the bridge unsafe and recommended that it be dismantled immediately. While preparations for the same were done in September, the actual dismantling was postponed due to the festive season.
To reduce the impact on commuters, CR ran 178 special local services between Kasarat/Karjat/Khopoli & Kalyan and between CSMT and Dombivali during the block.
Kalyan Dombivali Municipal Transport (KDMT) and Maharashtra State Road Transport Corporation (MSRTC) also deployed additional buses ensure minimal inconvenience.
MSRTC, meanwhile, will undertake construction of a new two-lane bridge in place of the dismantled one. Work on the new bridge is expected to begin next month and complete in a year's time.