25 spots where Mumbaikars can dispose banned plastic items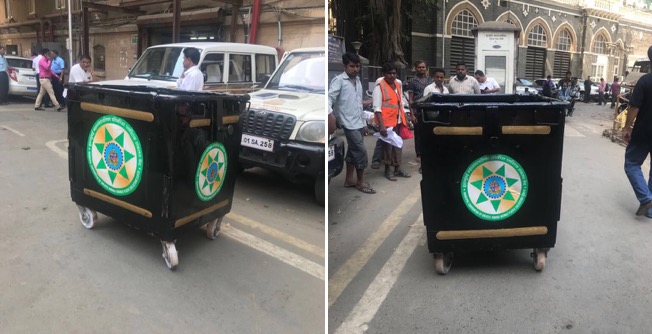 In a bid to effectively implement the plastic ban, the civic body has started installing plastic collection bins at 25 prominent spots in the city. The spots include Gateway of India, Fashion Street, Girgaum Chowpatty, Juhu Chowpatty, Linking Road among others.
The bins are being installed by the Brihanmumbai Municipal Corporation (BMC) in crowded areas to make it easier for citizens to dispose of any banned plastic and thermocol items.
"Following the state government's directives to implement the plastic ban, the BMC in the first phase has decided to install these plastic collection bins at 25 locations," Deputy Municipal Commissioner Nidhi Choudhary said.
The collection bins have already been installed near the BMC headquarters in A ward, and will be installed at all 25 locations by Monday. Going forward, at least one collection centre will be present in each of the 24 wards and in all 92 markets across the city.
"We are also planning to install these bins in all municipal markets in the city. Their quantity will also be increased according to the necessity," she added.
Incidentally, the BMC did not have to purchase the bins as they had them in the warehouse. The 4×5 feet bins were simply painted and branded before being put into use.
The portable bins have been coloured black and golden to differentiate them from regular bins. Citizens are expected to dispose of all banned plastic and thermocol items in them before the civic body starts imposing fines.
The bins have a capacity of around 500 kg and will be in place for at least a month.
The bins will be installed at the following 25 locations:
South Mumbai: Gateway of India, Girgaum Chowpatty, Colaba Causeway, Crawford Market, Chor Bazaar, Dedh Galli, Kamathipura, Zaveri Bazaar, Flora Fountain, Kala Ghoda, Mangaldas Market Kalbadevi, Fashion Street, Dadar Flower Market, Hindmata Market, LBS Market Matunga West and KNP Market Dadar West.
Suburbs: Sion Circle, Bandra Linking Road, Juhu Chowpatty, Lokhandwala Market, Sainath Market Malad, Borivali Market, Chembur Market, Ghatkopar Market and Mulund Market.
The Ban
On March 23, the state issued the Maharashtra Plastic and Thermocol Products notification that banned the manufacture, use, storage, distribution, sale, import and transportation of all kinds of plastic items.
The ban covers a wide range of articles made of plastic and thermocol, including, bags, dishes, cups, glasses, bowls, forks, spoon, straw, containers, small PET bottles and decoration items.
Although the ban was welcomed by citizens, many activists had slammed the state and municipal bodies for lack awareness about the ban and its perceived impact.
To address the problem, the Directorate General of Information and Public Relations (DGIPR) has prepared a plan to spend Rs 10 crore for creating awareness among people about the ban on a range of plastic items.
Meanwhile, the BMC is also working on increasing the availability of alternatives like cloth and paper bags in the market.