After 3 days of fire fighting, Butcher Island blaze brought under control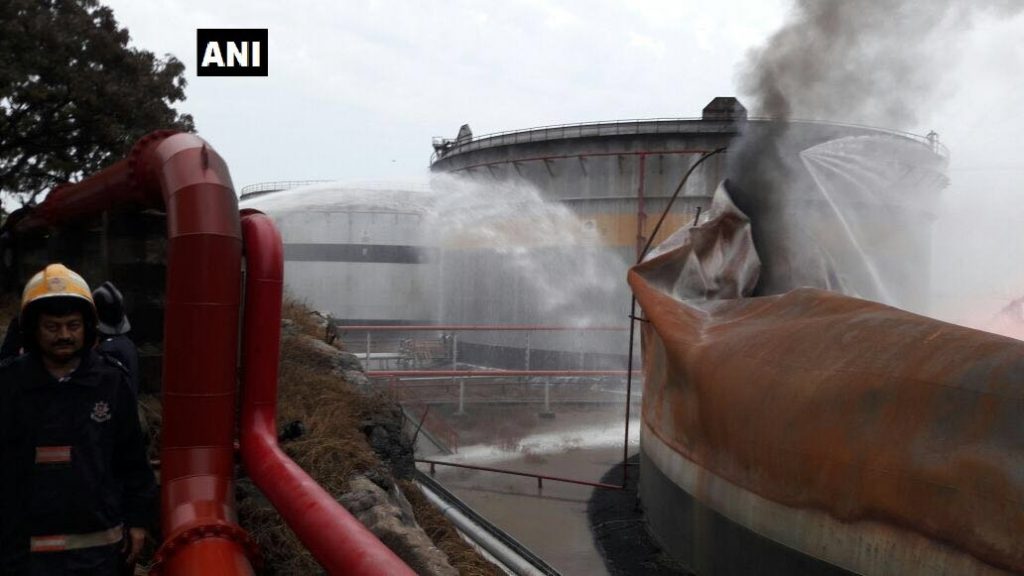 Three days after a blaze broke out in a high-speed diesel tank, fire fighting operation at the fuel tank farm of the Mumbai Port Trust on Butcher Island off Mumbai coast was completed successfully today morning.
The island, officially known as Jawahar Dweep, houses a marine oil terminal of the Mumbai Port Trust (MbPT).
"Operation at Jawahar Dweep island is completed successfully," said Sanjay Bhatia, MbPT chairman, adding that it will take another few hours for smouldering inside the tank to stop.
Multiple agencies such as the MbPT, oil major BPCL (which owns the tank that caught fire), ONGC, state planning agency CIDCO and fire services of Maharashtra government carried out a joint operation to contain the fire.
According to Bhatia, the fire was triggered by a lighting strike on Friday evening, when Mumbai and its surrounding areas were inundated with thundershowers.
No casualty was reported during the mishap. Regular operations on the island will resume only after a thorough inspection of pipelines and other infrastructure.
Mumbai fire brigade chief P S Rahangdale, who supervised the operation on behalf of the Mumbai fire brigade, said, "At present controlled-burning and extinguishing operation is in process. Very little high-speed diesel is left in the tank."
Tank number 13 of Bharat Petroleum Corporation Ltd (BPCL) which caught fire had collapsed inwards a little, BPCL executive director Manohar Rao had said yesterday.
BPCL has eight tanks on Butcher Island. However, the fire was limited to only one tank.
Crude oil and other commodities are offloaded at the Jawahar Dweep anchorage and stored in tanks before being transported to nearby refineries through underwater pipelines.
The incident is not likely to cause any shortage of high-speed diesel in the market.
#LatestVisuals of #ButcherIsland fire in #Mumbai: Extinguishing operation is in process says Mumbai's chief fire officer Prabhat Rahangdale pic.twitter.com/37UyVxXyuu

— ANI (@ANI) October 9, 2017
With agency inputs