3 dead, 9 injured in fire at Techniplex Complex, Goregaon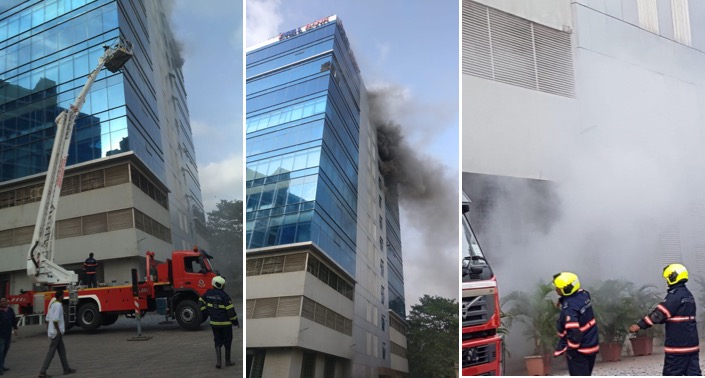 Three people died and nine others were injured in a massive fire that broke out in a commercial building inside Techniplex Complex in Mumbai's Goregaon on Sunday afternoon.
The building, located on SV Road near MTNL junction in Goregaon East, houses several offices including that of RBL Bank.
According to officials, the fire broke out inside an electrical duct on the seventh floor of the 12-storey Techniplex 1 building around 4:20 pm. The fire officials were subsequently alerted and arrived a the spot with four fire engines and two water tankers.
The fire was escalated from a Level II to Level III at 5 pm, after which eight fire engines, six tankers and more fire brigade officials were rushed to the spot.
The blaze was brought under control after nearly seven hours of fire-fighting and cooling operations continued through the night.
The fire had been confined to the electric wiring and around the duct, although smoke and heat passed through all floors of the glass facade building.
According to Chief Fire Officer P.S. Rahangdale, thick smoke between the second and eighth floor hampered operations. However, fire officials wore breathing apparatus and used three small hoses to douse the flames.
Five people were rescued from the building and rushed to Siddharth Hospital, where three of them were declared dead on arrival.
The deceased were identified as Naimuddin Shah (25), who was found on the seventh floor, and Ramavtar (45) and Ram Tirathpal (45), who were found unconscious inside a lift stuck between the fourth and fifth floors.
One of the five rescued, Wasim Salmani (35), was treated and discharged. The remaining person is still being treated.
In addition, eight fire brigade officials also had to be treated for smoke inhalation. Although six of them suffered cuts, bruises and minor burns, two had to be admitted to the ICU for excessive smoke inhalation.
Assistant Municipal Commissioner, P-South ward, Chanda Jadhav is scheduled to inspect the building today to ascertain if there were any irregularities in the structure.