500-kg Egyptian woman Eman Ahmed arrives in Mumbai for treatment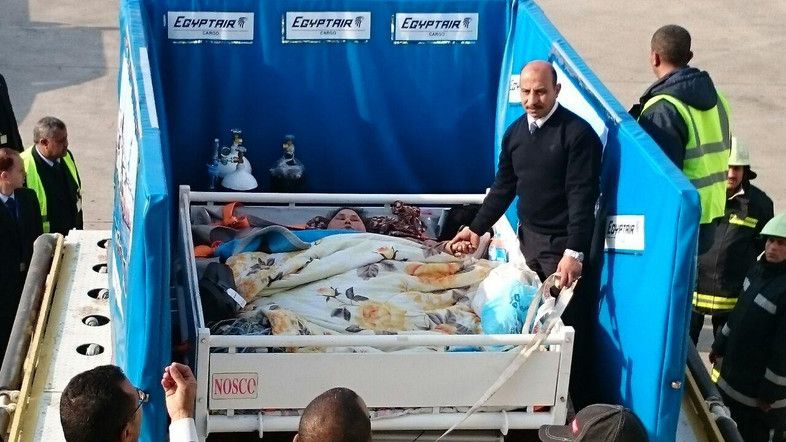 Eman Ahmed, one of the heaviest women in the world weighing 500 kgs, arrived in Mumbai for weight reduction treatment at a local facility during the wee hours of Saturday.
Eman, 36, who travelled to India in an EgyptAir plane, landed at Mumbai international airport around 4 am.
According to doctors, Eman has not moved out of her house for 25 years and would be under observation for about a month before she undergoes surgery.
One of the heaviest women in the world, she is currently under the care of a city-based bariatric surgeon Muffazal Lakdawala, and his team of doctors.
They have been treating Eman for almost three months and took all the necessary precautions needed for the transportation of bed-bound Eman from Egypts Alexandria city, an aide to Lakdawala said.
"Even though transporting Eman to Mumbai was a challenging task keeping in mind the complexities of her case as she is a high risk patient who has not been able to move or leave the house for the past 25 years," doctors said.
Eman was accompanied by Aparna Govil Bhasker, an Advanced Laparoscopic and Bariatric Surgeon at Centre of Obesity and Digestive Surgery and Head of Department of Bariatric surgery at Saifee hospital, and Kamlesh Bohra, Senior Intensivist, Department of Critical and Intensive Care at Saifee Hospital in Mumbai.
"She, along with her sister Shaimaa Ahmed, arrived here early today. To prepare her for the flight, the team of doctors have been in Egypt for the last 10 days to optimise the conditions for her travel; given the fact that she is so heavy and not moved for the last 25 years she is at a high risk for a pulmonary embolism and hence has been put on blood thinners to try and minimise the chances of such an eventuality during her transfer," doctors said.
A special bed was created by local Egyptian artisans in requirements with the safety precautions as laid out by the Egypt Air for her safe transport on ground and in the plane.
As a precautionary measure, the flight was furnished with all the equipment required in case of an emergency such as portable ventilator, portable defibrillator, oxygen cylinders, intubating laryngoscopes and other safety drugs.
Eman is being transported by a fully equipped truck, which will be followed by an ambulance and a police escort to Saifee Hospital where a special room has been created for her.
Eman arriving in Mumbai:
@EGYPTAIR flies world's heaviest woman (500Kgs) #EmanAhmed.Pics taken at @CSIAMumbai. @NewsX @shukla_tarun @avgeekretweeter @captranganathan pic.twitter.com/fgbKtHMZKM

— Ashish Singh (@AshishSinghNews) February 11, 2017
With PTI inputs