After long wait, Mumbai Monorail now fully complete and operational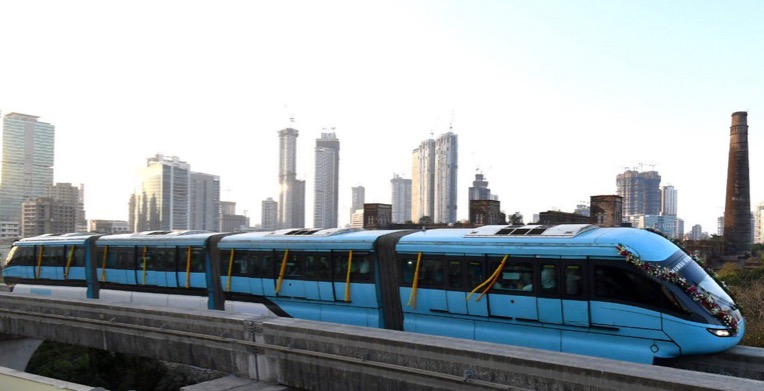 The highly delayed and anticipated phase 2 of the country's first monorail project, connecting Chembur-Wadala-Jacob Circle, was thrown open for public on Sunday.
Services on the newly completed 11.28 km route were flagged off by Maharashtra Chief Minister Devendra Fadnavis and Union Railway Minister Piyush Goyal yesterday.
With this, the entire 19.54 kilometre route of the country's first monorail system, being implemented by the Mumbai Metropolitan Region Development Authority (MMRDA), is now functional.
With the implementation of the second phase, the annual ridership of the service is expected to increase from the current 4.5 lakh to 30 lakh.
The operator will run 120 services daily with a fleet of seven 4-coach trains between 6 am and 10 pm, implying a frequency of one every 20 minutes. The entire one-way journey will take 42 minutes.
The fare for the entire 17-station route, which has been built at a cost of Rs 3000 crore, has been fixed at Rs 10, Rs 20, Rs 30 and Rs 40.
The first phase, an 8.26 km stretch connecting Chembur and Wadala, was built and operated by a consortium of Larsen & Toubro and Malaysian firm Scomi Engineering. It was commissioned in February 2014.
"The first 8 km route which got commissioned in 2014 was used as a mere joyride because there was no last mile connectivity. But now, with the commissioning of the second phase, it will no longer remain a joyride but passengers can now use it for a hassle-free commute," Fadnavis said during the inauguration.
We travelled by the #MonoRail upto Wadala !
This project is of 19 km with 30 lakh travellers per month ! pic.twitter.com/W6IfBP2NXf

— Devendra Fadnavis (@Dev_Fadnavis) March 3, 2019
The second phase was supposed to be operational by December 2016, but missed several deadlines due to a host of issues ranging with the availability of spare parts and alleged lapses on the part of Scomi Engineering.
"At almost 20 km, Mumbai monorail is the third largest route in the world after China with 98 km and Japan with 28 km. Despite several hurdles, we have managed to now finally commission the entire route," said MMRDA Commissioner RA Rajeev.
In December last year, MMRDA terminated the L&T-Scomi Engineering consortium's contract over non-performance and other lapses including frequent equipment breakdowns.
Further, a fire in an empty monorail coach in November 2017 had led to the network being shut till August last year.
The lack of spare parts forced MMRDA to delay repair work and commission Phase 2. However, work began as soon as spare parts worth over Rs 3 crore arrived from Malaysia last month.
Meanwhile, railways has given in-principle approval for connecting all monorail stations to ones on the suburban railway network.
"We have taken this decision to connect monorail to all railway stations, subways, skywalks, to ensure end-to-end connectivity," Railway Minister Piyush Goyal said.