AIU foils major smuggling racket, arrests 21 people carrying gold worth Rs 1.7 crore in Mumbai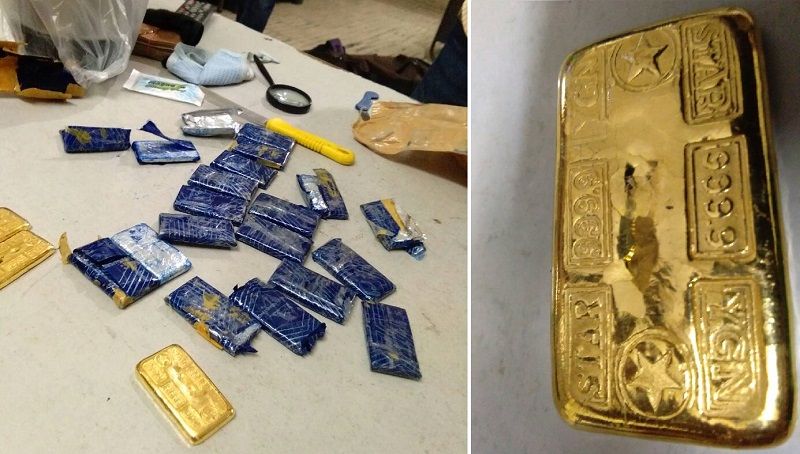 The Air Intelligence Unit of the Mumbai customs department foiled a major smuggling racket earlier this week by arresting 21 people who were trying to smuggle 5 kg gold worth Rs 1.70 crore into the country.
According to AIU officials, all of them belonged to Tanda village in Rampur district of Uttar Pradesh and were allegedly acting as carriers for a Lucknow-based gold smuggling syndicate.
"We intercepted 21 people, who came to Mumbai from Saudi Arabia, carrying 5.665 kg of gold bars valued at Rs 1.70 crore. They were carriers for a Lucknow-based gold smuggling syndicate," he said.
The carriers were identified as Mohammad Javed Akhtar, Mohammad Iqbal, Fakhruddin, Junaid Ahmad, Mohammad Naem, Mohammed Fahim, Mohammed Iqrar, Mohammed Junaid, Harun, Mohammed Nazim, Maruf, Jishan Aalam, Mohammad Ashfaq, Maharazul Islam, Ajhar Ali, Mohammed Suheal, Amiruddin, Japhar Iqbal, Ishrat Ali, Laiq Ahmad and Zareena Begum.
They had arrived in the city from Jeddah on Monday night via Jet Airways flight 9W521.
"All of them were arrested and subsequently released on bail," the official said, adding the gold bars were concealed in bottles being carried by them.
This has been one of the biggest and most successful AIU operation of the recent past as 21 carriers were arrested in one go and a major organised smuggling racket was unearthed.
The Air Intelligence Unit (AIU) also seized 2.3 kg of gold, valued at Rs 69 lakh, from two persons at the airport this week in two separate cases of smuggling.
In the first case, AIU sleuths intercepted Hameed Shaikh and recovered 1.8 kg gold worth Rs 55 lakh from him. He had arrived here from Dubai via Muscat.
In the second case, Muslim Yaseen Mohammed Ali, a Sudanese businessman, had arrived from Khartoum in Sudan via Riyadh. On searching, 500 grams of gold worth Rs 14 lakh was recovered from him.