Alert: Message about 'curfew in Mumbai on August 9' viral on WhatsApp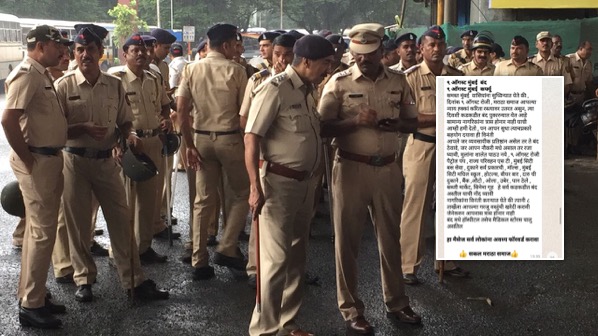 The above message, which talks about a curfew in Mumbai on August 9 in wake of protest by Maratha groups, is currently going viral on WhatsApp and social media platforms.
The message, seemingly forwarded by the Sakal Maratha Samaj, warns citizens not to venture out on Thursday while the 'peaceful' protest is underway.
---
Update | Maratha Protest on August 9: All latest developments
---
It further claims that all establishments, government and private, will be shut. Additionally, all modes of public transport will also be out of bounds.
While the possibility of a statewide protest exists, netizens are requested to ignore the message in question and refrain from forwarding it to others as it can lead to unwarranted panic and confusion.
As far as the protests are concerned, here are the latest developments as of 6 pm on Tuesday:
* Maharashtra Chief Minister Devendra Fadnavis, in a televised announcement, has assured the Maratha community that the state government would implement their demand for 16 percent reservation in jobs and education. He has also agreed to postpone the 'mega recruitment' drive of 72,000 people till the reservation is in place.
* Bombay High Court has urged agitators to refrain from violence and not take extreme steps like suicide while the matter was sub-judice. It has also directed the Maharashtra Government to expedite the matter and file a progress report on the Maratha reservation issue by September 10, when the next hearing is scheduled.
* The State Backward Class Commission has said it will submit a report on Maratha reservation by November 15. The commission has been tasked with presenting the socio-economic status of the Maratha community, which will form the basis of granting reservation.
* If the report proves social backwardness, the state government will move to finalise the reservation for the community by end of the year.
* The Maratha groups, however, have asked for a written undertaking from the Chief Minister and the Chief Secretary before withdrawing the protest. In the absence of the undertaking, the groups said the protests will continue as planned.
* State police force and other local authorities are making the necessary arrangements to ensure no untoward incidents take place during the protests.