Another day, another hike: Petrol reaches 90.22, diesel at 78.69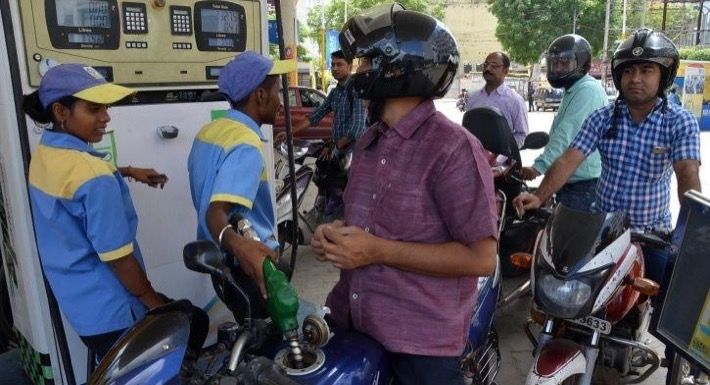 Fuel prices were hiked once again on Tuesday, a day after petrol breached the Rs 90-mark in Mumbai.
According to a price notification of state-owned fuel retailers, petrol price in Mumbai surged to Rs 90.22 per litre, while diesel is being retailed at Rs 78.69 per litre today.
Compared to Monday's prices, the cost of petrol in Mumbai went up by 14 paise while that of diesel was hiked by 11 paise.
Meanwhile, in New Delhi, petrol price is being retailed at Rs 82.86 per litre, while diesel is being sold at Rs 74.12 per litre.
Fuel prices in the country have been on the rise since mid-August.
While the Opposition has blamed the union government for neglecting and failing to curb fuel prices, the latter has maintained that global crude oil prices and other international factors like the dip in rupee value against the US dollar have led to a hike in prices of petroleum products.
In India, the domestic fuel prices depend upon the international fuel prices on a 15-day average and the value of the Indian rupee.
Department of Economic Affairs Secretary Subhash Chandra Garg had earlier said that discussions are taking place with the United States regarding the reduction of oil imports from Iran.
Since India imports more than 80 percent of its oil needs, the Centre is also mulling over reducing oil purchases to mitigate the pain of high crude prices.
State refiners typically maintain up to a month-long inventory which includes crude in the storage, pipeline and in transit to India. Sources say that reducing inventory will help to reduce the costly imports and thereby reduce the demand for dollars.
Meanwhile, some states like West Bengal and Karnataka have slashed the excise/cess on fuels to provide temporary relief to motorists. Maharashtra government, on the other hand, is considering increasing duties on Indian-made foreign liquor (IMFL) to compensate for a reduction in the state-levied fuel tax.