In Pics: CR to introduce Mumbai's first 'tricolour' local on occasion of Gandhi Jayanti on Oct 2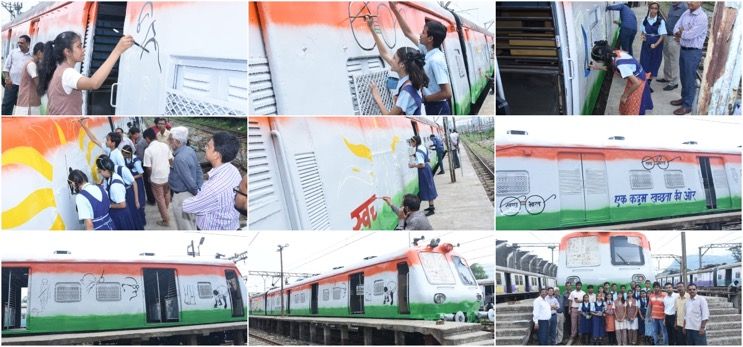 After introducing two nature-themed coaches, Central Railway's Mumbai division is set to unveil a 'tricolour' rake on October 2, which marks the 150th birth anniversary of Mahatma Gandhi.
The rake has been painted by students and teachers of Central Railway School (CRS) in Kalyan, with due support from principal Jacob Thomas. The institution, incidentally, completed 100 years in 2018.
The coaches have been painted saffron, white and green to represent India's tricolour flag and feature several depictions of Mahatma Gandhi.
Another aspect of the artwork is the focus on 'Swachh Bharat', which the railways have wholeheartedly imbibed and promoted throughout all its recent campaigns.
The insightful combination of the tricolour, depictions of the 'Father of the Nation' and Swachh Bharat give the rake a thoroughly 'Indian look'.
"The novel idea of Central Railway, lead by Divisional Railway Manager (DRM) S K Jain, was a brainchild of Additional Divisional Railway Manager (ADRM) N P Singh and initiative of Senior Divisional Electrical Engineer – Traction Rolling Stock (DEE TRS) Kalwa," said CR Chief Public Relations Officer (CPRO), Sunil Udasi.
The newly painted rake, christened 'Swachhata Express' will be put to service on the occasion of Gandhi Jayanti on October 2, Udasi added.
In recent weeks, CR's Mumbai division has been trying to offer a more visually appealing and pleasant experience to commuters during their daily commute.
So far, it has introduced exquisite looking nature-themed and aquarium-themed coaches for ladies commuters.
However, unlike the tricoloured rake, the ladies coaches were painted by trade apprentice Chandu Aguru and Amol Dabhade of CR's Matunga Workshop.
Pictures