Another Twist: CM Fadnavis, Deputy CM Ajit Pawar resign ahead of floor test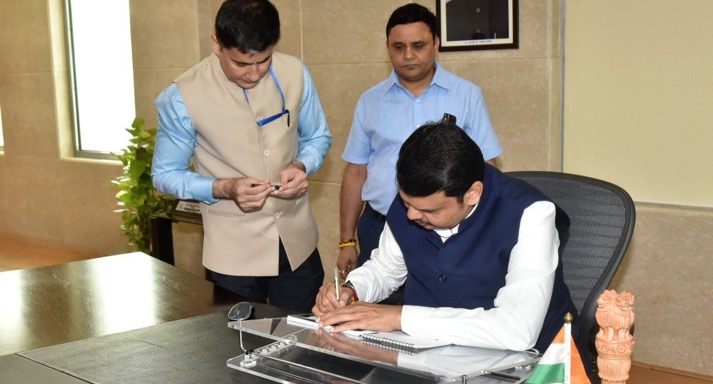 In a major twist ahead of tomorrow's floor test, both Chief Minister Devendra Fadnavis and Deputy Chief Minister Ajit Pawar have resigned from their respective posts.
Ajit Pawar, who did not take charge of his new assignment yesterday, submitted his resignation letter to Chief Minister Devendra Fadnavis earlier today.
Moments later, CM Fadnavis addressed a press conference during which he said that he too will be resigning from his post later today.
"Ajit Pawar submitted his resignation and because of that, we do not have the numbers to form government in Maharashtra. I will submit my resignation to the Governor after this press conference," Fadnavis told media persons.
The BJP leader blamed Ajit Pawar for the crisis.
"We formed the govt because a group of NCP leaders came to us, but now we don't want to do horse-trading, so I am going to resign. I am sure now these 3 parties (ShivSena-NCP-Congress) will run the government but I fear that this government is going to bow down under its own pressure."
He also accused Sena of breaking the three-decade-old saffron alliance.
"BJP had a better mandate than Shiv Sena. People gave us a clear mandate with 105 seats. Shiv Sena thought they could bargain because of the mandate and started doing it publicly. We formed a government keeping mandate in mind. We spoke to Shiv Sena for many days but instead of talking to us they started talking to Congress and NCP."
Devendra Fadnavis: The hunger for power is such that now Shiv Sena leaders are even willing to ally with Sonia Gandhi. #Maharashtra pic.twitter.com/8k4IKb9JHU

— ANI (@ANI) November 26, 2019
Fadnavis claimed Shiv Sena was threatening the BJP and their only agenda was to "keep BJP out of power."
The development comes three days after Fadnavis took oath for the second consecutive term as the state Chief Minister early morning on November 23, while Ajit Pawar was sworn-in as Deputy Chief Minister.
Caught unaware, the opposition parties subsequently filed a petition with the Supreme Court, which ordered a floor test in the assembly on Wednesday.
Meanwhile, the Shiv Sena-NCP-Congress alliance, united under the banner of Maha Vikas Aghadi, claims to have the support of over 160 MLAs – enough to form government in the state.
According to sources, their coalition government will be headed by Sena President Uddhav Thackeray, who will get the CM's post for the full five years.