Anti-CAA, NRC protest at August Kranti Maidan today: Security stepped up, traffic restrictions in place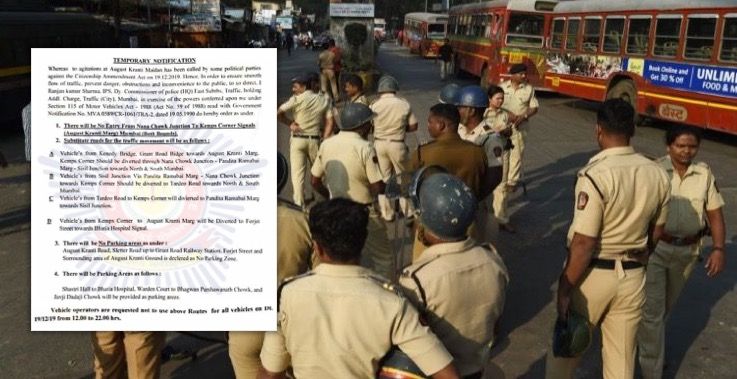 Ahead of today's scheduled protest march at August Kranti Maidan in central Mumbai against the CAA and NRC, Mumbai Police have stepped up security and placed traffic restrictions in the area.
Who is protesting
The protest is being organised by Congress, NCP, and various other parties under a united front, 'Hum Bharat Ke Log', to oppose the Citizenship (Amendment) Act and the National Register of Citizens (NRC).
Besides the Maharashtra units of Congress and NCP, the Samajwadi Party, CPI, CPM, JD(S), Peasants and Workers Party of India, Muslim League and various citizen organisations will take part in the protest.
The march will also see participation from hundreds of students from city colleges, who have been actively voicing their dissent.
The group, terming the CAA and NRC as 'unconstitutional and discriminatory', is demanding that the BJP-led government take back the CAA, which recently became law after it was passed by both houses and getting the President's assent.
The front, in its release, said December 19 is historically significant as it was in this day in 1927 that freedom fighters Ram Prasad Bismil, Ashfaq Ullah Khan and Roshan Singh went to the gallows.
"The Constitution, drafted by Dr B R Ambedkar, is being violated and is under attack. This is the reason that the entire country has chosen this day to condemn the unconstitutional and divisive laws of the BJP government," it said.
Security arrangements
Ahead of the protest march, the Mumbai Police has stepped up security in anticipation of thousands of people who are likely to gather at August Kranti Maidan.
"Thousands of people belonging to different communities, NGOs and political parties are expected to take part in the protest. Mumbai police will maintain a strict vigil to prevent any untoward incident during the protest," an official said.
Along with the local police, Riots Control Police (RCP), Quick Response Teams (QRT), SRPF will be deployed, he added.
Police personnel in plain-clothes will also keep a vigil and the crowd will also be monitored using drones and CCTV, the official said.
Meanwhile, Chief Minister Uddhav Thackeray and Mumbai Police Commissioner Sanjay Barve on Wednesday held a meeting with the prominent leaders of Muslim organisations via video conference from Nagpur.
During the meeting, Muslim organisations assured that the protest will be carried out in a peaceful manner and that it would not create any law and order problem.
Traffic restrictions
Mumbai Traffic Police has also issued an advisory, informing motorists about the traffic restrictions put in place from Nana Chowk and Kemps Corner. The restrictions will remain in place from 12 pm to 10 pm today.
"Whereas to agitations at August Kranti Maidan has been called by some political parties against the Citizenship Amendment Act on December 19, 2019. In order to ensure smooth flow of traffic, prevent danger, obstructions, and inconvenience to the public the following restrictions have been put in place," the traffic police said in a statement.
From 12 pm to 10:30 pm, there will be no entry from Nana Chowk Junction to Kemps Corner signals.
Alternate arrangements have been made for the routes and no parking restriction has been put in place at August Kranti Road, Sletter Road up to Grant Road Railway station, Forjet Street and surrounding areas.
Complete details on traffic restrictions below:
Dear Mumbaikars,

Please be advised about the alternate routes and diversions around August Kranti Maidan due to agitation against the Citizenship Amendment Act, on Dt 19th December 2019. Following will be reflected from 1200 hrs to 2200 hrs on Dt.19/12/2019. pic.twitter.com/VgHuMePmp2

— Mumbai Police (@MumbaiPolice) December 19, 2019