BEST bus fare hiked: Pay more for bus rides from Thursday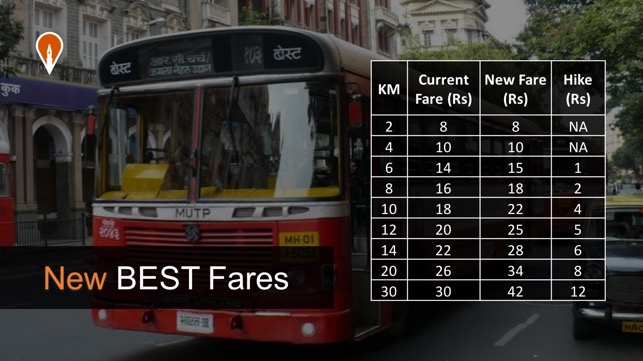 Commuters will have to shell out more to travel via BEST buses from Thursday with Mumbai Metropolitan Region Transport Authority (MMRTA) set to clear the proposed hike for bus fares on April 11. MMRTA confirmed the news on Sunday.
The proposal will be officially cleared on April 11, and the new fares are expected to come into effect from April 12, Times of India reported. The civic body had cleared the hike last month.
The fare hike will be in the range of Rs 1 to 12 for distances over 4 km, a decision that will impact a majority of the undertaking's 30 lakh daily commuters. However, fares for distances below 4 km will remain unchanged.
The fare for air-conditioned buses will also go up by Rs 5, including the new Hybrid buses connecting BKC with Thane, Borivali, Kharghar etc. The fare for both shuttle and point-to-point services will be hiked, with the minimum fare increasing from Rs 15 to 20.
The hike will further apply to the monthly and season bus pass rates. College and school students, for example, will have to shell out an additional Rs 50 for the monthly bus pass. The daily bus pass too will cost Rs 90 against the current Rs 70.
The hike for separate bus passes, island city and suburbs, will be Rs 10.
The undertaking will reportedly take additional measures like rationalization of bus routes, scrapping of routes with less than 40% occupancy, rationalization of fleet and cost-cutting measures such as curtailing special allowances to staffers to cut costs.
The decision to hike fares is expected to bring some relief to the debt-ridden BEST, whose budget for 2018-19 showed a deficit of Rs 880 crore.
The proposal to hike fares, however, has met with opposition from some committee members who have stated that the undertaking should first cut down costs before passing on the burden of higher fares to commuters.
Prior to this, the BEST had increased fares in 2015.
New BEST bus fares:
| | | | |
| --- | --- | --- | --- |
| KM | Current Fare (Rs) | Proposed Fare (Rs) | Hike (Rs) |
| 2 | 8 | 8 | NA |
| 4 | 10 | 10 | NA |
| 6 | 14 | 15 | 1 |
| 8 | 16 | 18 | 2 |
| 10 | 18 | 22 | 4 |
| 12 | 20 | 25 | 5 |
| 14 | 22 | 28 | 6 |
| 20 | 26 | 34 | 8 |
| 30 | 30 | 42 | 12 |