Bhiwandi building collapse: Death toll rises to 4, owner booked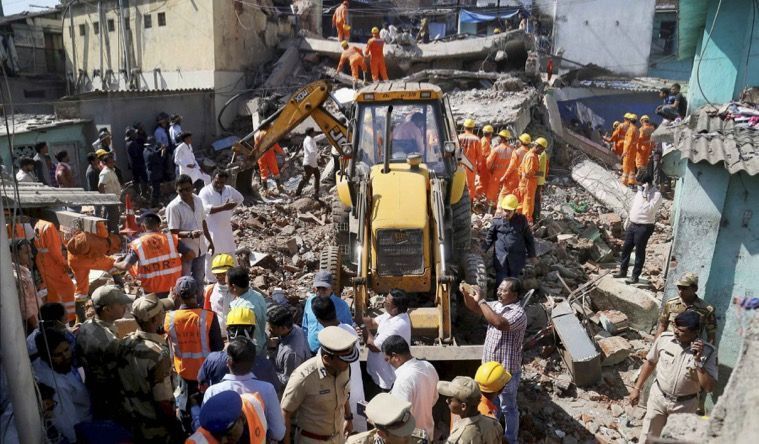 The police have booked the owner of the Bhiwandi building that collapsed on Friday and resulted in the death of four people while leaving nine others seriously injured.
The unauthorised four-storey 'Tahir Biznor' building, situated in Navi Basti area, had collapsed on Friday morning leaving dozens trapped in debris.
Regional Disaster Management Cell chief Santosh Kadam said that the fourth deceased, whose body was recovered last night, was identified as Parvin Khan (65).
The other three deceased were Ruksar Yakub Khan (18), Asfaque Mustaque Khan (38) and Jaibunissa Rafique Ansari (61).
The officer said nine people were injured in the collapse and they were admitted to various hospitals.
He also said rescue and relief operations launched by the National Disaster Response Force (NDRF) were called off at 6.45 am.
According to a senior police official, the building's owner has been booked under relevant sections of the Indian Penal Code (IPC) and the Maharashtra Regional and Town Planning Act.
The accused, Mohammad Tahir Rafique Ahmed Ansari (46), was absconding, he said, adding that efforts were on to nab him.
Bhiwandi Tehesildar Shashikant Gaikwad had said the building was over ten years old and it was not in the list of dangerous buildings.
This report has been covered in a shortened or snippet format to ensure the most crucial information is published in the shortest possible time. The report may be expanded to a full length article if the story develops further or more information becomes available.