BJP chief Amit Shah to meet Uddhav Thackeray tomorrow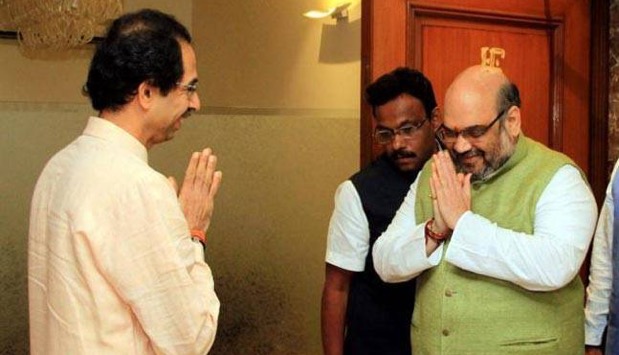 BJP chief Amit Shah will meet Shiv Sena president Uddhav Thackeray at the latter's residence in Mumbai tomorrow. The visit comes days after the bickering allies contested the Palghar bypoll separately.
Political observers have dubbed the move as an attempt by the BJP to reach out to its saffron ally, whose leaders have been vocal in their criticism of BJP in recent past.
"Amit Shah sought time to meet Uddhavji. Accordingly, an appointment of tomorrow evening has been given to him," Sena MP Sanjay Raut told news agency PTI.
Raut, however, questioned the need for Shah to meet Thackeray after a gap of four years.
"We showed that we can fight alone when we contested the Palghar bypoll. We may have lost, however, the message has been sent across. We received lakhs of votes (in Palghar) where we had never contested an election," he told reporters.
In the May 28 Lok Sabha bypoll, the Sena candidate, Shrinivas Wanaga, secured 2,43,210 votes but lost to BJP's Rajendra Gavitt by a margin of 29,572 votes.
Raut said NDA allies were deserting the BJP one after the other. Moreover, the BJP might have started a reconciliatory measure to address the growing angst against the party.
Asked if the Sena will continue with its stand of going solo in all the forthcoming elections, the Rajya Sabha member said party chief Thackeray had taken a call on not forging an alliance after due considerations.
"This decision was taken keeping people's sentiments in mind. I don't think there will be any change in this stand," he said.
Raut, incidentally, launched a scathing attack on its saffron ally last week and dubbed Shiv Sena as BJP's biggest "political enemy".