BJP, MNS rapped for putting up illegal hoardings, told to be in court next month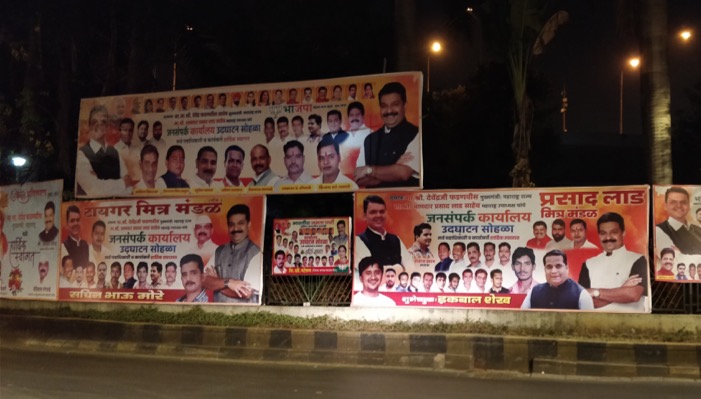 Taking strong objection to illegal hoardings being put up by political parties across the state, the Bombay High Court on Monday directed representatives of MNS and BJP to appear before court next month.
A division bench of justices Abhay Oka and Sandeep Shinde was hearing public interest litigation filed by NGOs Janhit Manch, Suswarajya Foundation and others, accusing political parties of defacing the city and blatantly disregarding civic rules.
Taking cognisance of the violation, the bench directed the representatives of the ruling BJP and Raj Thackeray-led MNS to be present in court on January 22 and explain why their party workers continued to put up illegal hoardings.
Back in November, the court had issued show-cause notices to almost all active parties in the state asking why they shouldn't be penalised for violating court orders. While Shiv Sena immediately tendered an apology, others failed to do so.
During yesterday's hearing, Nationalist Congress Party (NCP) and the Republic Party of India (RPI) representatives gave oral undertakings saying they will not put up any such hoardings without taking requisite permissions.
NCP, in fact, went a step further by promising to take stern action against members who flouted the party's diktat on such hoardings.
The court's directive comes ten weeks a hoarding frame put up on railway land collapsed in Pune in October, resulting in the death of four persons and leaving seven others injured. Subsequently, NGO Suswarajya Foundation to file a PIL against such banners.
Last year, the Bombay HC had also directed the BMC to ensure a criminal law was introduced to penalise political parties involved in putting up illegal hoardings.
The court orders, however, have had little impact as authorities have been unable to curb the menace of illegal hoardings in the city and state.