NBA pre-season game at NSCI stadium sold out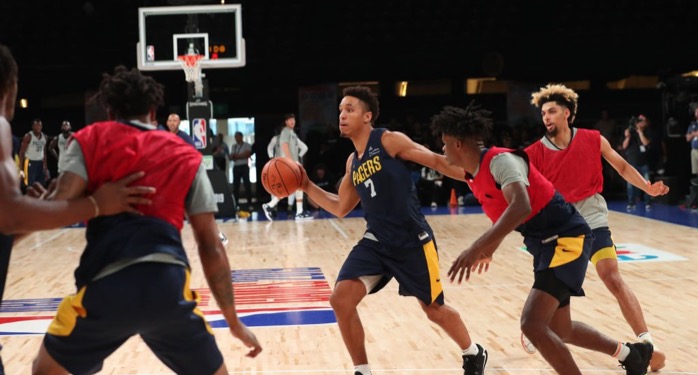 The highly-anticipated NBA pre-season games between Sacramento Kings and Indiana Pacers are set to take place at the sold-out NSCI stadium in Mumbai's Worli on Friday and Saturday.
The excitement among Indian basketball fans is high for the NBA India Games 2019, which will feature the Sacramento Kings and the Indiana Pacers. The teams will be playing two pre-season games on Friday, October 4 and Saturday, October 5.
The Sacramento Kings team, incidentally, is owned by Indian American businessman Vivek Ranadive.
Tickets have been sold only for the match that will take place on Saturday while the game on Friday will be attended by 3,000 kids who are part of the Reliance Foundation Junior NBA programme.
"On Friday seats have been reserved for 3,000 kids from 70 schools in Mumbai. As part of their programme with the Reliance Foundation and the NBA, they will be seeing the match," the organisers were quoted as saying.
The tickets for the game on Saturday, including the ones priced at a whopping Rs 85,000, have all been sold out.
"Tickets have been sold only for the match on Saturday. All tickets have been sold and the people can enjoy top quality basketball. This is the first time an NBA pre-season match is being held in India and fans should not be missing it," they added.
Ticket prices started at Rs 4,500 and went all the way to Rs 85,000 and were divided into eight categories.
"The cheapest was worth Rs 4,500. Then it went to Rs 6,000, Rs 7,000, Rs 8,000, Rs 18,000, Rs 20,000, Rs 25,000 and the most expensive was for Rs 85,000," organisers said.
Youtube sensation Bhuvan Bam will be singing the National Anthem at the event, which will also be the first time that an NBA event will witness India's national anthem.
---
Related: NBA brings 'floating' basketball court to Mumbai
---