BMC Budget 2018-19: All major announcements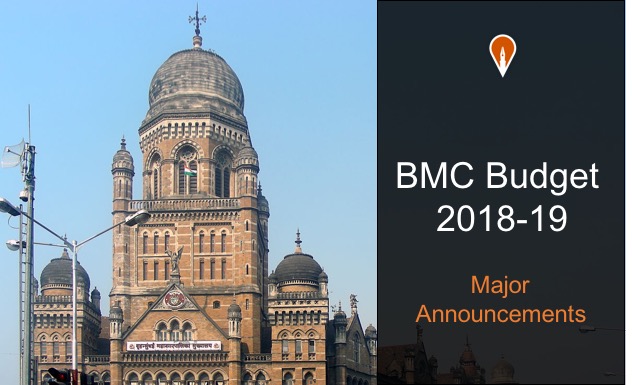 The country's richest civic body – Brihanmumbai Municipal Corporation (BMC) – presented the budget for the financial year 2018-19 on Friday afternoon.
The budget was presented by BMC chief Ajoy Mehta, his third since he took charge in 2015.
All major announcements of BMC budget 2018:
* Budget outlay for 2018-19 hiked by 8.4% to Rs. 27,258 crore from Rs 25,141 crore in 2017-18. The budget was cut to a third last year compared to the Rs 37,052 in 2016-17.
* Of Rs 27,258 crore, Rs 17,723 crore will be spent on administration and maintenance.
* Education budget hiked by 11% from Rs 2,311.66 crore in 2017-18 to Rs 2,569.35 crore for 2018-19.
* Rs 5 crore allotted for installation of 4,064 CCTV cameras in 381 civic school buildings.
* Rs 27.38 crore allotted for providing nutritious supplementary meal along with midday meals from this year. The supplementary meal will include a protein-rich snack bar.
* Rs 25 crore allotted for primary section and Rs 2.38 crore for secondary section.
* Rs 25 lakh allotted towards starting 24 new international board BMC schools, one in each ward.
* Rs 1 crore proposed for e-library at 25 public schools. Services like website, computers, internet, e-books to be made available on a trial basis.
* Rs 5 crore allotted for school picnic for students to KIDZANIA.
* Rs 65 crore allocated for expanding free bus service to 7,000 civic school students.
* Rs 18 crore allotted for providing tablets with new curriculum to students in 2018-19.
* 381 sanitary napkin vending machines to be installed across civic schools.
* Rs 277.67 crore allotted for renovating existing school buildings. Work on 31 buildings completed, 33 in progress while 63 expected by finish by end of next fiscal.
* New schools to come up on 12 plots along with seen playgrounds.
* 35 new schools affiliated to CBSE, IB, Cambridge, CISCE boards to come up in buildings that were closed down due to declining or no student intake. The schools will be under public-private partnership.
* Rs 1500 crore and Rs 100 crore allotted to high ticket projects like Mumbai Coastal Road and the Goregaon Mulund Link Road (GMLR) respectively. Work on both projects is yet to begin.
* BMC expects to create 10,000 jobs owing to Mumbai Coastal Road project.
* Rs 10 crore allotted for state-level capacity building centre which will offer courses related to formulation of development plans.
* No new tax or hike in existing tax proposed.
* Rs 9,522.45 crore allotted for public work in next fiscal.
* To increase revenue collection, BMC to review factory permit charges, license fees, charges for medical treatment in BMC hospitals. Hike in fees likely.
* BMC to locally manufacture road building material, which had been imported for testing earlier, for fixing potholes. The manufacturing will begin in the next 3-4 months.
* Rs 1 crore proposed to make cement roads in gaothan areas of Mumbai.
* Rs 1 crore allotted for parking sites to create around 22,000 parking spaces in the city.
* Rs 25 crore allotted for the proposed textile museum, art gallery, auditorium and public plaza at the India United Mills land. Total project to cost around Rs 300 crore.
* Rs 12 crore to be spent on installation of organic converters in markets. Aim to make city plastic-free through awareness programmes.
* Use of GPS proposed to take action against illegal structures.
* Rs 2 crore, out of the total project cost of Rs 13.6 crore, allotted for building 15 storey women's hostel in Goregaon.
* Rs 15 crore allotted for beautification of the Mithi river and completion of water treatment plant along the river.
* Rs 50.25 crore allotted for Byculla Zoo revamp work. Another Rs 5.2 crore to be spent on CCTV network with public address system for increased vigilance.
* Rs 53 crore allotted to address water logging issues at 55 flood-prone areas ahead of monsoon. A total of 146 spots have been identified.
* Rs 4 crore allotted for Art Gallery which will be used to educate students about natural disasters.
* Rs 110 crore allotted for started work on energy plat at Deonar dumping ground.
* Work on stopping sewage ingress in Powai Lake to begin in March 2018 and expected to complete by August 2019.
* BMC estimates to collect Rs 5,180 crore as tax on water and sewage in the next fiscal.
* Rs 538 crore allotted for starting work on multiple sewage treatment plants which will recycle water for industrial use.
* BMC to deploy floating trash brooms at Dahisar, Oshiwara, Poisar, and Mithi river to stop floating garbage from sea to accumulate at beaches.
* Proposed construction of two sports complexes, one each at Veera Desai Road in Andheri West and Bhavdevi Maidan in Dahisar.
* Rs 6 crore proposed for BEST to offer 100% concession in bus fare to visually challenged and differently-abled people in non-AC buses.
* Rs 180 crore allotted for procurement of firefighting equipment, starting fire safety compliance cell and the introduction of new firefighting system.
* Rs 28.97 crore allocated for new fire stations, including mini-fire stations. Fire brigade to also procure drones for monitoring fires and robots to assist in firefighting.
* 97 women who have completed training to join Mumbai fire brigade soon.
* Rs 11.69 crore allotted to disaster management unit for better response and communication.
* Rs 5 crore allotted for construction of night shelters at Chandivali, Magathane, and Dahisar. Of the proposed 25, ten are operational while 11 others will be functional by April.
* Rs 2,665.37 crore allotted for implementing two-decade blueprint of Mumbai development plan 2014-34.
* Rs 752.21 crore allotted for partial implementation of Mumbai Development Plan, which is still pending approval of Maharashtra government.
* Rs 23.22 crore allotted for the development of 40 open spaces reserved in the development plan 2014-2034 by March.
* Health budget hiked by Rs 861.89 crore to Rs 3,636.82 crore for 2018-19. Health budget to focus on improving infrastructure and hiring manpower.
* Rs 61 crore allotted for providing medicines and equipment in civic-run hospitals.
* Rs 16 crore allotted for procurement of 230 ventilators for major hospitals.
* Work on converting Sion Hospital into a 1,800-bed tertiary care facility to start as part of Rs 1,000 crore revamp.
* Work on Nair Hospital redevelopment, pegged at Rs 340 crore, to start this year.
* To treat congenital defects and development delays, an early intervention centre to be set up for special children at Nagpada.
* Rs 13.5 crore allotted to tuberculosis eradication programme for providing supplements and prevention kits.
* Rs 10 crore allotted to medical and dental colleges for foreign collaboration and student exchange programmes.
* Rs 2,058.92 crore allotted to BMC's road department.
* Rs 1202.20 crore allotted for road construction compared to Rs 1078.61 crore last year.
* Rs 434 crore and Rs 590 crore allotted for cement-concrete roads and Asphalt roads.
* Rs 467 allotted for construction of new bridges, flyovers or their extensions.
* Rs 28 crore allotted for installing LED lights across the city.
* Rs 1 crore allotted for the beautification of Worli sea face, JJ flyover, and Carter Road promenade. Beautification of Bandra fort already underway.
* The BMC has proposed to scrap the idea of pay and use toilets and make them free for everyone.
* Rs 5 crore allotted, out of total 45 crore project cost, for construction of gymkhana for civic officers.
* Rs 510.33 crore proposed as capital expenditure on the solid waste management and sanitation programme, almost double the amount spent last year.
* Powai-Veravali and Powai-Ghatkopar water tunnel arms to be commissioned this year to improve supply in suburban areas in and around Andheri, Bandra, Ghatkopar, Kurla, and Powai.
* Email facility to be provided to 15,000 staffers to enable faster communication with citizens. Only 8,800 officials have this facility at the moment.
* The civic body estimates to save a surplus of Rs 7 crore this year, Rs 6 crore more than last year.