BMC presents Rs 30,692 crore budget for 2019-20: Read highlights, major allocations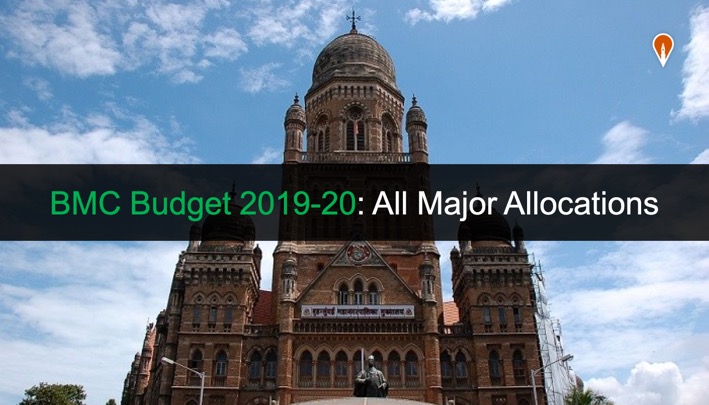 Municipal commissioner Ajoy Mehta presented the Brihanmumbai Municipal Corporation's (BMC) fiscal budget for the year 2019-20 on Monday. This is Mehta's fourth civic budget since being appointed BMC chief.
The budget, which crossed Rs 30,000 crore mark for the first time since 2016, is higher than that of several small states.
As expected, a substantial amount of the Rs 30,000 crore plus budget was allocated towards the reconstruction of dilapidated bridges, flood-mitigation, and 'Swachh Bharat' initiatives.
Highlights and major allocations in BMC Budget 2019-20:
* Budget outlay for 2019-20 hiked by 12.6 percent to Rs. 30,692.59 crore from Rs 27,258 crore in 2017-18. In comparison, the budget was hiked by 8.4 percent in the last fiscal compared to 2017-18. It stood at Rs 37,052 in 2016-17.
* Rs 11,480 crore allocated towards capital expenditure, which includes the expenditure on roads (19%), coastal road (14%), water supply (11%), sewage treatment & disposal (8%), health (7%), storm water drain (7%), fire brigade (2%) and others.
* Rs 4,151 crore set aside for health department, roughly 13 percent of total budget and over Rs 500 crore more than last year.
* Rs 3323.64 crore proposed for implementation of development plan 2034.
* Rs 2,888 crore allotted to BMC's solid waste department.
* Rs 2,733 crore earmarked for education. BMC to introduce 'Tinker Labs' to encourage the use of computer labs. Rs 2.6 crore to be spent on international affiliation for schools. Students will get to see penguins at Byculla zoo during school trips.
* Provision of Rs 1,600 crore made for the Coastal Road Project, which was inaugurated in December last year.
* Rs 1,520 allotted for road construction, around 10 percent more than last year. Total 370 km of roads to be improved – 106 km to be in concrete, 172 in asphalt and another 92 km of roads to be resurfaced.
* Rs 1,302 crore allocated for maintenance of storm-water drains, which help prevent flooding during monsoons.
* Rs 489 crore allocated to sewage disposal project.
* Rs 387 crore allotted for development of gardens and zoos.
* Rs 227 crore to be spent on maintenance of open spaces, gardens and playgrounds
* Rs 201 crore allotted to Mumbai Fire Brigade for procurement of firefighting equipment, drones, special vehicles, and other upgrades.
* Rs 120 crore allocated for creation of 36-km cycle track along Tansa pipeline. Total project cost is Rs 488 crore.
* Rs 115 crore to be spent on Mithi river beautification. Another 19.9 crore allotted for de-silting work.
* Rs 110 crore assigned for the development of Byculla zoo, for which the civic body earlier acquired 7 acres of Mafatlal Mill plot. Development work to start by May 2019. New enclosures to be built for reptile house, jackals, Asiatic lions, sloth bears, wolves, otters and others.
* Rs 100 crore allocated towards Goregaon-Mulund Link Road (GMLR) project. Work is yet to start on the Rs 4,000 crore project.
* Rs 100 crore allotted for the development of waste energy plat at Deonar dumping ground. Work expected to begin this year.
* Rs 100 crore allotted for curbing illegal digging and improving footpaths. Rs 3 crore given to parking authority.
* Rs 108 crore allotted for repair and reconstruction work on Mumbai's bridges. The civic body maintains 344 bridges, FOBs and skywalks.
* Rs 87 crore and Rs 56 crore assigned for de-silting of minor and major nullahs respectively.
* Rs 43 crore assigned for reclaiming 24 hectares of Mulund dumping ground land by 2024.
* Rs 35.6 crore allotted for the veterinary department. Entails construction of new vet hospital at Mahalaxmi with CT scan, sonography, MRI and ambulance service
* BEST gets Rs 34.1 crore for passenger service improvement. Another Rs 10 crore for employee welfare.
* Rs 19 crore proposed for the beautification of spaces below 23 flyovers which were converted into gardens.
* Rs 15.86 crore allotted for production of cold mix used to fill city's potholed roads.
* Rs 11.1 crore allotted for Dadar-Mahim beach year-round cleanup.
* Rs 10.4 crore to be spent on building border walls at Deonar and Mulund dumping grounds to prevent trespassing.
* Rs 10 crore provision made for reconstruction of Carnac Bridge in South Mumbai.
* Rs 5 crore proposed for Shiv Sena founder Balasaheb Thackeray memorial in Dadar.
* Rs 5 crore allocated for reclaiming the Arabian Sea at Cuffe Parade, in line with BMC's plan to develop open space like New York's Central Park
* Rs 4.5 crore proposed for setting up facility for processing and recycling of constriction and demolition waste. Will be the first such facility in the city.
* Rs 2.3 crore allotted for the escalator at Girgaum Chowpathy foot-over-bridge, which will ease pedestrian movement at Marine Drive.
* Rs 1.3 crore allocated for construction of language laboratory. Will help students develop language skills.
* Rs 1 crore budget provision made for the construction of new Mumbai Mayor bungalow at Shivaji Park. Mayor shifted to premises in Byculla zoo after the land of his erstwhile bungalow was transferred to Balasaheb Thackeray Memorial Public Trust.
* Rs 1 crore proposed for cat sterilisation programme, starting April 2019
* Rs 1 crore assigned for remodelling nullah at Irla. Will include the creation of walkway and cycle track.
* BMC to spent 86 percent of last year's Rs 27,258 crore budget by end of this fiscal, i.e March 31
* No new tax or hike in existing tax proposed.
* 60 chronic flooding spots to be fixed year. BMC had tended to 160 flooding spots last year.
* BMC to introduce Direct Direct Benefit Transfer (DBT) scheme for providing materials like books, uniforms, school bags, shoes etc. Money used towards these items to be transferred in the student's bank account.
* Sports academies will be set up in seven centres to train students on nine types of sports and games like football, boxing, wrestling, and judo.
* BMC to levy charges and entry fees to various corporation facilities to increase revenue.