Caught in the act: Auto driver nabbed for rigging e-meter in Jogeshwari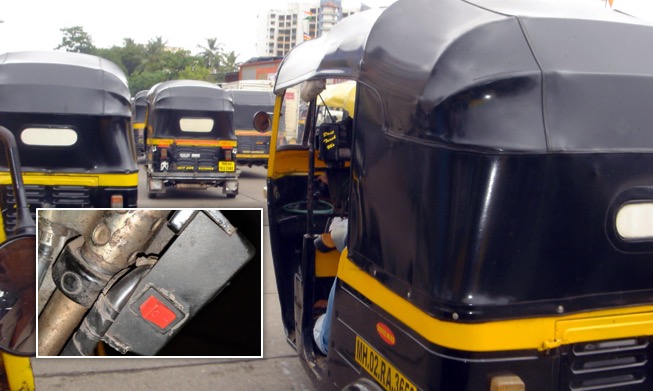 The switch from mechanical to electronic meters has done little to deter errant auto-drivers in Mumbai, who have seemingly found a way to speed up the meter reading and charge exorbitant fares.
Incidentally, electronic meters were made compulsory for autos plying in the city a few years back to curb incidents of meter tampering.
The method of rigging e-meters was unearthed by Sachin Khetale, who had been taking an auto from his workplace in Kapurbawadi, Thane to travel to his home in Jogeshwari since the last few days.
While returning from work on Tuesday night, the 34-year-old noticed the fare had climbed up to Rs 140 by the time he had reached Kanjurmarg. On a regular day, it would hover around Rs 100.
Khetale, who works as a civil engineer in a private firm in Thane, grew suspicious about the meter reading and soon spotted the driver pressing a red button installed near the steering handle.
The driver would press the concealed button at regular intervals to spike the reading. Each press was followed by a beeping sound.
By the time he reached his destination, the meter read Rs 352 instead of the regular fare between Rs 280 and Rs 300. Certain about the meter tampering, Khetale called his friend Shivaji Khairnar and the two confronted the driver about the jacked up fare.
The driver denied the claims initially. However, after the two warned him of the consequences, he confessed to having rigged the meter. When the duo tried to take him to the nearby police station, he fled – but only to return a few minutes later.
Khetale and Khairnar recorded the driver's confession and escorted him to Jogeshwari traffic division. The auto (MH03 BT 6161) was confiscated after a complaint under relevant sections of the Motor Act was filed.
Since the vehicle was registered at Wadala RTO, Jogeshwari police notified them about the incident, post which RTO officials suspended the auto's license and sent a show-cause notice to the vehicle's owner Nitin Kumar Narale.
Narale, a Bhandup resident, has been asked to come to the RTO next week to record his statement.
While confessing, the driver admitted that hundreds of autos plying in Bhandup had rigged their meters the same way. If found guilty, the driver may lose his permit or get his license suspended temporarily.
The duo, meanwhile, warned their friends and family about the malpractice via WhatsApp and social media.
Filing a complaint
In Mumbai, commuters can file a complaint against errant or over-charging auto/taxi drivers on the Maharashtra Transport department's website or by dialling toll-free number 1800-22-0110.