Chhota Rajan, 7 others sentenced to life imprisonment for journalist J. Dey's murder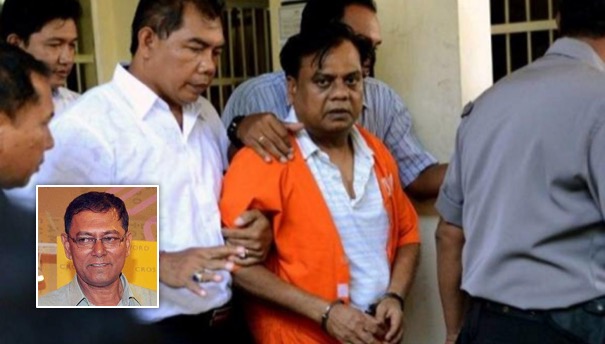 A Special Maharashtra Control of Organised Crime Act (MCOCA) Court on Wednesday found mafia don Rajendra S. Nikhalje, a.k.a Chhota Rajan, and eight others guilty in the murder case of senior journalist Jyotirmoy Dey in June 2011.
Co-accused journalist Jigna Vora who was charged with conspiracy has, however, been acquitted by Special Judge Sameer Adkar, Special Public Prosecutor Pradip Gharat was quoted saying.
There were a total of 11 accused in the case of whom eight, including some sharpshooters, were found guilty.
The other convicted persons include Satish Kaliya, Anil Waghmode, Abhijit Shinde, Sachin Gaikwad, Deepak Sisodia, Nilesh, Arun Janardhan, and Mangesh Agarwal. The case, which was initially probed by the Mumbai Police, was later transferred to the CBI.
The verdict came almost seven years after the brutal daylight killing of Dey in a public place in suburban Mumbai, wherein four men on two bikes gunned down 56-year-old near his home in Powai.
Three months later, police arrested Jigna Vora, then Deputy Bureau Chief of The Asian Age, who was said to be in touch with Rajan and allegedly provoked him to eliminate Dey.
According to investigators, Rajan had hired a contract killer for Rs 5 lakh to kill Dey.
The gangster was reportedly irked with the journalist over his portrayal as a small-time gangster in the book he was writing. The book, titled 'Chindi — Rags to Riches', was a compilation of stories of 20 gangsters who had come from modest beginnings.
Rajan is currently serving a seven-year jail term at Delhi's Tihar Jail. He was deported from Bali, Indonesia in November 2015. There are over 70 other cases pending against him.
The quantum of sentence is likely to be announced at 4.30 pm today by Special judge Sameer Adkar. Rajan faces a maximum punishment of death and a minimum of life in prison.
Update (4:40 pm): Gangster Chhota Rajan and seven others sentenced to life imprisonment by MCOCA court in journalist Jyotirmay Dey murder case.