CM suspends no-confidence motion against Mundhe, demands response from mayor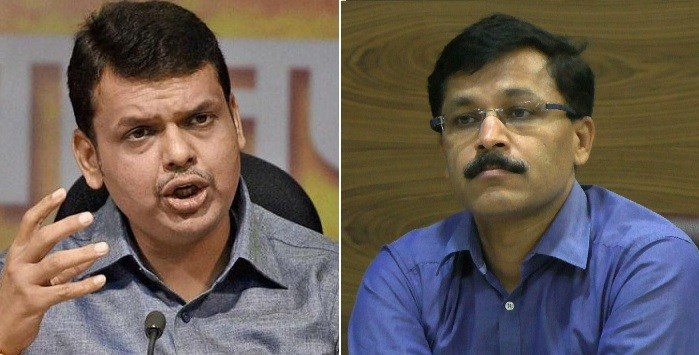 The state government on Wednesday suspended the no-confidence motion passed against civic body's commissioner Tukaram Mundhe by the Navi Mumbai Municipal Corporation (NMMC).
"The no-confidence motion has been suspended by the state government and the (Navi Mumbai) mayor has been asked to submit a response in 30 days as to why the civic body took such an action," an official in the Chief Minister's Office said.
Mundhe will retain his position as the NMMC chief during the 30 day period.
On October 25, the NCP-controlled NMMC passed the motion at a special meeting chaired by mayor Sudhakar Sonawane. During the meeting, Mundhe was present in the House but was not allowed to put forth his point.
While BJP corporators had opposed the motion, its ally in the Maharashtra government Shiv Sena had colluded with NCP and Congress and supported the motion. The motion was passed 105-6.
A day after passing the motion, Sonawane had even written to the Navi Mumbai commissioner of police and requested him to "stop Mundhe from attending his NMMC office".
The motion was then sent to the Urban Development department of the Maharashtra government, which is headed by Chief Minister Devendra Fadnavis himself.
"Targeting an officer for doing his duty, exposing irregularities and preventing wrong happenings is absolutely wrong," Fadnavis had said indicating his support to Mundhe while speaking with a group of journalists.
By protecting Mundhe, who has a clean image and public's backing, the CM wants to show citizens that the BJP will continue to stand by honest officers like him. Fadnavis' decision might also help them win votes in the upcoming civic polls.
While Mundhe was accused of 'undemocratic functioning' by corporators, his drive against illegal constructions, allegedly linked to politicians, earned him plaudits from citizens.
"Law does not permit the government to quash the order. But by suspending it, they are just trying to buy time. Regardless, this is the death of democracy," said Sonawane.
Although the Navi Mumbai mayor maintains that the government can't quash the order, experts believe otherwise.
According to one report, the government can actually quash the order by using a special provision under section 451 of the Maharashtra Municipal Corporation Act.
The section states that the state can suspend or prohibit the resolution passed by any municipality if it could lead to a law and order situation, or is against the larger public interest or if it could hurt the municipality financially.