Congress, NCP finalise seat-sharing for Maha polls; to contest 125 seats each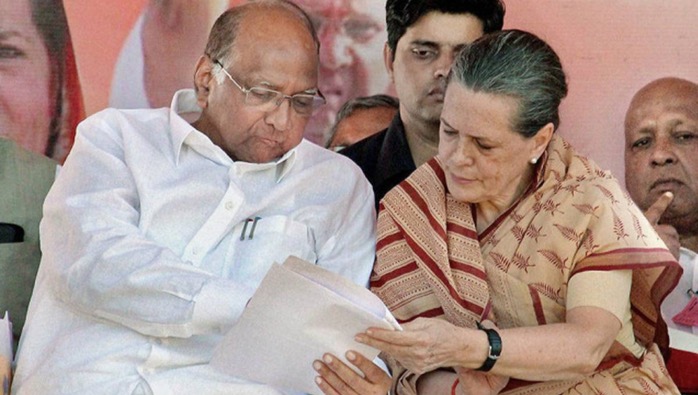 While uncertainty looms over the BJP-Shiv Sena alliance for the upcoming Maharashtra Assembly Elections, the opposition front of Congress and NCP have finalised their seat-sharing arrangement and are expected to make a formal announcement soon.
According to Nationalist Congress Party (NCP) chief Sharad Pawar, the two allies will be contesting 125 seats each in the October 21 Assembly polls and 38 seats would be left for other partners of the opposition alliance. The state has a 288-member Assembly.
The development was confirmed by Indian National Congress (INC) General Secretary and spokesperson Sachin Sawant. "Our alliance is on. We shall make the official announcement shortly," he said.
Both Congress and NCP are expected to release their candidate list shortly.
According to Congress leaders, all the sitting MLAs of the party will be again repeated in the 2019 assembly polls. In the case of others, the candidates will be announced in a day or two after it is finalised by party president Sonia Gandhi.
In contrast, the ruling BJP and Shiv Sena are yet to finalise their seat-sharing arrangement. Reports suggest that the Shiv Sena is demanding 135 seats but the BJP is reluctant to give away more than 110-115 seats.
Earlier this week, BJP chief Amit Shah also cancelled his Mumbai visit. During his visit, Shah was expected to meet Sena president Uddhav Thackeray and iron out the details of their alliance for the upcoming polls.
Meanwhile, ahead of the Assembly polls, the Congress and the NCP have suffered major setbacks as several of their senior leaders have quit.
In Congress, senior leaders like Kripa Shankar Singh, Radhakrishna Vikhe Patil, Minister Abdul Sattar among others have quit the party in the run-up to the polls.
Similarly, leaders like Ganesh Naik, Udayanraje Bhosale, Pandurang Barora, Shivendraraje Bhosale, Avdhoot Tatkare, Dhananjay Mahadik, Sanjeev Naik and others have left NCP for greener pastures.
In most cases, the defectors have joined the BJP or the Shiv Sena.
Apart from the ruling BJP-Shiv Sena and the opposition camp led by Congress and NCP, parties like Prakash Ambedkar-led Vanchit Bahjan Aghadhi (VBA), Maharashtra Navnirman Sena (MNS) and Aam Aadmi Party (AAP) are also in the fray in Maharashtra.