Congress wants to postpone Coldplay concert, says it can 'influence voters'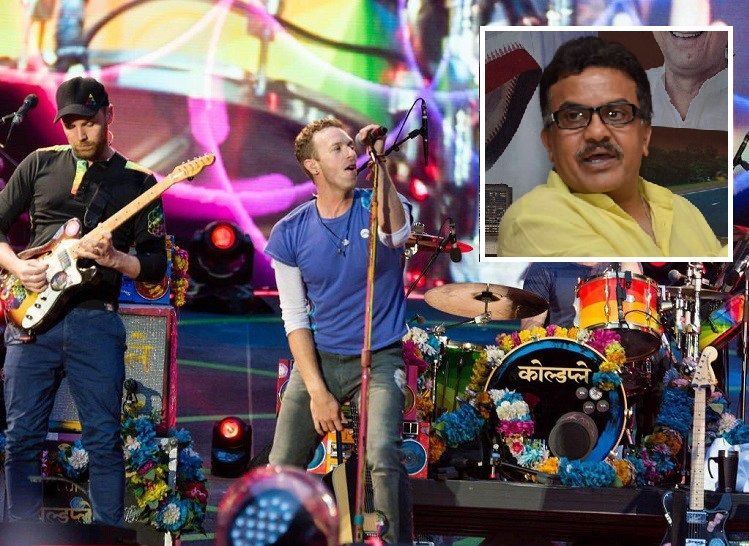 Opposition parties Congress and NCP on Thursday attacked the BJP-Shiv Sena alliance for waiving of the entertainment tax and rentals for Global Citizen India's upcoming event in Mumbai on November 19, in which British rock band Coldplay is scheduled to perform.
The Congress in fact went a step further and complained to the State Election Commission (SEC) demanding that the event, in which the Maharashtra government is a 'strategic partner', be postponed until after the ongoing civic elections process in the state.
The star-studded event, which will be held at MMRDA grounds in Bandra Kurla Complex (BKC), will feature performances by Jay Z and a host of Bollywood celebrities including Aamir Khan, A.R. Rahman, Arjun Kapoor, Amitabh Bachchan, Farhan Akhtar, Kareena Kapoor-Khan, Katrina Kaif, Ranveer Singh, Shah Rukh Khan, Shraddha Kapoor, as well as sportspersons Sachin Tendulkar, Sakshi Malik, Vijender Singh among others.
Nobel Peace laureates Kailash Satyarthi and Mohammed Yunus will also join the celebrations which also marks the World Toilet Day, said a spokesperson for GCI.
Mumbai Congress President Sanjay Nirupam on Thursday shot off a letter to State Election Commissioner J.S. Saharia, noting that top politicians will participate in the event organised by the Global Citizen India as part of its inaugural Global Citizen Festival.
"The state government has granted the organisers 75 percent concession on the rent for the MMRDA Ground, Bandra East, and waived off entertainment tax for the event. This is a waste of public money and such concessions are not granted to other organisations," Nirupam said in the letter.
The organizers had to pay Rs 2 crore towards venue fees, against the Rs 8 crore that one would have had to pay normally for booking MMRDA ground for 3 days.
Moreover, he contended that organising entertainment shows at public expense is tantamount to influencing the voters and the platform would be exploited politically in the ongoing civic elections season.
Nirupam urged Saharia to probe how the concert was granted so many concessions during the election season and asked that the show must be brought under the ambit of Election Commission code of conduct.
The Congress demanded that either the concert be postponed until after the elections, or it should be conducted in a simple manner without the presence of any political leader on stage.
Reports, however, suggest that the code of conduct has been imposed across Maharashtra where local body elections are underway. No restrictions have been placed on Mumbai, where the elections are due early next year.
The Congress Mumbai chief even compared the upcoming event to the famous Michael Jackson concert held in Mumbai in 1996, organised during the first Shiv Sena-BJP government, which had stirred a huge controversy.
Nationalist Congress Party (NCP) state spokesperson Nawab Malik too lashed out at the concert, questioning the need to bring the rock band to Maharashtra in the first place.
"Farmers are committing suicide here, there are issues of unemployment and other matters. Amid all this, they are bringing Coldplay – for what? Will this (Coldplay) concert remove unemployment like the Michael Jackson show?" Malik told media persons.
As for the concert, only a small chunk of the tickets have been sold. The majority will be given for free to those who undertake philanthropic activities. Moreover, funds raised from the concert are donated towards charity.
The GCI spokesperson had earlier said previous Global Citizens fests in New York have driven commitments to the tune of $25 billion, which will positively impact the lives of around 656 million people worldwide.
Responding to the opposition's call for postponing or cancelling the event, Niranjan Shetty, chief spokesperson for BJP Mumbai told Asian Age, "The Congress has no important issue to raise hence such futile attempts are being made by them. It's foolish to think that a music concert can influence voters."
Update: Official statement of Global Citizen India on the subject;
"As one the fastest growing youth movements in India, Global Citizen is delighted to see such overwhelming support for our gender equality, education and clean water and sanitation campaigns.
We are a non-partisan movement making efforts to create long term change and work towards getting India to take on a leadership role in achieving the end of extreme poverty. We are deeply disappointed that this work is being caught in the middle of politics as usual. Our platform aims to unify and bring together all stakeholders, catalysing the youth using popular culture, to ensure India takes on a leadership role in achieving the UN Sustainable Development Goals.
Minister Suresh Prabhu, CM Chandrababu Naidu, Chief Minister P Vijayan, Chief Minister Vasundhara Raje, Congress Leader Smt. Meira Kumar, MP Jairam Ramesh, MP Poonam Mahajan, Shiv Sena Youth Wing Chief Aditya Thackeray, Former MEA Salman Khurshid, Congress Leader Milind Deora, are some of the leaders who Global Citizens we have called on, whose achievements have been highlighted, and who have made commitments in response to the voice of young India and who have championed issues.
We are working with many more leaders across the spectrum to get them to make commitments and join this movement. We look forward to welcoming a number of them at the Global Citizen India Festival on November 19th."