CR services disrupted after coach derails at Kurla station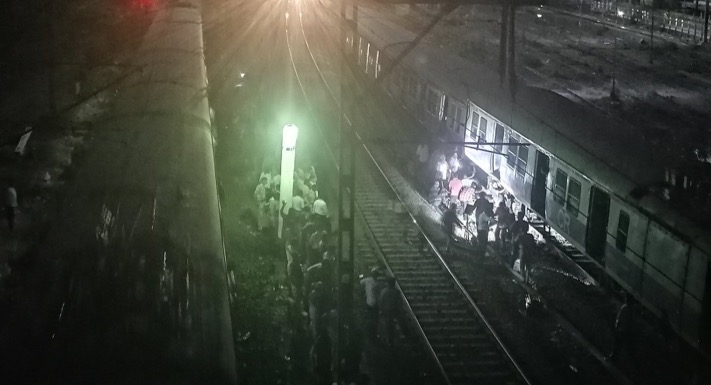 Central Railway's suburban services were partially disrupted for nearly two hours on Sunday night after a train derailed before entering platform three of Kurla station.
According to officials, a wheel of the 5th coach of 'Kalyan-116' train derailed while entering the crossover just before Kurla station at 8:55 pm yesterday. The mishap occurred when the train was about to change tracks and move to platform 3.
While no one was injured due to the derailment, the incident affected all slow suburban services towards CSMT. Later, services in the opposite direction were also affected due to bunching, resulting in delays of up to 30 minutes.
The delay also resulted in overcrowding at Kurla station.
To lessen the impact, slow services were diverted on the fast track at Vidyavihar and rerouted back to slow track Matunga. However, commuters were clueless about the reason.
"Mumbai Central Railway toward CST slow local not stopping at Vidyavihar station. Some problems at Kurla station. No announcement at any station at all," tweeted Jignesh, one of the affected commuters.
Also, before CR officially announced the reason for the disruption, rumours about a derailment had started doing rounds, which only added to the chaos.
"Please don't believe in rumours. There will be very less impact on services as services are planned to be diverted on the other line. It will be re-railed soon and traffic will be normalised,"
The restoration work completed around 10:40 pm and normal services resumed shortly after.
Meanwhile, CR has also launched an enquiry to probe the cause of the derailment.
"An enquiry is being done about this. Our safety officers are here. Nobody is injured in this incident. No trains have been cancelled because of this," said SK Jain, DRM, Central Mumbai Division.
Video of the accident site. 5th coach has come off the wheels! pic.twitter.com/JF4PoiA56l

— Rajendra B. Aklekar (@rajtoday) May 26, 2019