Deer strays onto highway near Goregaon, gets killed after being hit by an auto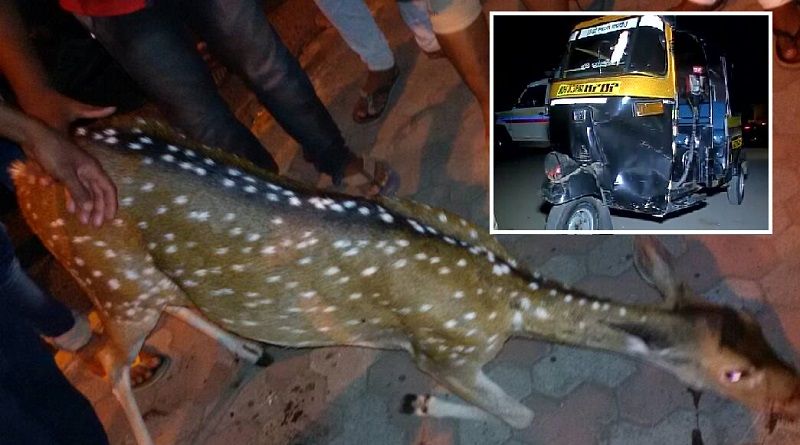 A deer was killed by a speeding auto rickshaw near Goregaon on the Western Express Highway during the wee hours of Friday.
The incident took place between 1 and 2 am, when the driver was heading towards Andheri via the service road.
According to eyewitnesses, the deer entered the road by crossing the forest area and suddenly appeared in front of the auto driver. Unable to apply the brakes and stop the vehicle on time, the driver ended up hitting the animal.
The impact of the collision also caused the rickshaw to overturn. The driver sustained minor injuries and was rushed to a nearby hospital for treatment. He is now in a stable condition.
The deer, meanwhile, sustained a head injury and was taken to Sanjay Gandhi National Park (SGNP) in an ambulance. The animal was bleeding profusely following the incident and succumbed to the injuries at the SGNP.
A post-mortem of the animal to ascertain the exact cause of death will be conducted after the veterinarians receive a go ahead from Aarey Colony police station. In the interim, the rickshaw driver has already given his statement to Vanrai police station.
According to locals, there are many animals in the deserted forest area near the express highway. One estimate puts the number of deers alone at 10,000 in the area in and around the SGNP.
#Mumbai Deer killed after being hit by an auto-rickshaw at Western Express Highway in Goregaon, late last night. Rickshaw driver injured pic.twitter.com/bMrWAgCyEV

— ANI (@ANI_news) May 12, 2017
This report has been covered in a shortened or 'Snippet' format to ensure the most important piece of information is relayed in the shortest possible time. If the story develops further or more relevant information becomes available, we will expand it into a full length article.