Retribution or Hooliganism? After attack on civic official, TMC chief & team publicly assault hawker, auto driver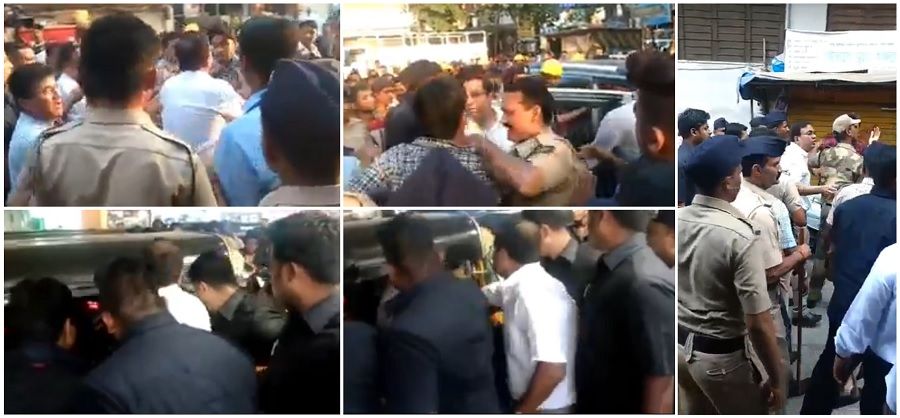 A day after a group of hawkers allegedly assaulted a senior civic official, Thane Municipal Corporation (TMC) chief took matter into his own hands by launching a massive drive against encroachments near the station area.
Earlier, on Wednesday, Deputy Municipal Commissioner (DMC) Sandeep Malvi was supervising a drive against illegal hawkers in Gaondevi area. During the drive, the hawkers got into an altercation with Malvi, which later turned physical.
The official suffered serious injuries during the assault, following which he had to be admitted to Thane Civil Hospital.
A day later, TMC chief Sanjeev Jaiswal, continued the drive against illegal encroachments near Thane station.
However, unlike the previous day, the municipal boss had sufficient backing in the form of private bodyguards and police personnel.
Jaiswal's visit was marked by at least three confirmed altercations, reportedly involving an auto rickshaw driver, a motorist and a hawker. In each of the cases, the civic chief and his men either manhandled or physically assaulted the other person.
All three individuals had allegedly blocked the road leading to the station under the Station Area Traffic Improvement Scheme (SATIS) bridge.
In addition, a few other auto drivers and hawkers were 'forced' out of the area for restricting access to the road.
While the commissioner maintains he and his men were simply responding to provocation, videos of the incident captured by onlookers show otherwise.
An eyewitness, while speaking to Local Press Co, even claimed that the victims were just "at the wrong place at the wrong time" and that Jaiswal's priority was to "show off the civic body's might as opposed to targeting encroachments".
Other citizens, who were simply carrying on with their business, were also caught in the crossfire between the group led by the civic chief and anyone else unfortunate enough to invite their wrath.
Meanwhile, almost two dozen people have been booked under various sections of the IPC for assaulting Malvi. Two of the accused have even been remanded to judicial custody after being produced in court.
To trace the remaining hawkers, Thane police have launched a manhunt and started monitoring CCTVs installed in the vicinity.
Videos captured by onlookers:
An IAS officer from Thane is manhandling citizens. Is it permitted under law? @CMOMaharashtra @ThaneCityPolice pic.twitter.com/hwTr38hp2D

— Alok Deshpande (@alokdesh) May 12, 2017
Isn't it a sign of lawlessness in Thane? How can an IAS officer behave in such a manner? @CMOMaharashtra @ThaneCityPolice pic.twitter.com/BW2ygM42RF

— Alok Deshpande (@alokdesh) May 12, 2017
Beating ppl on the streets of Thane, in front of senior IAS officer @CMOMaharashtra @ThaneCityPolice pic.twitter.com/cuHtqALoHh

— Alok Deshpande (@alokdesh) May 12, 2017