Derailment, agitation & disruption mar services on CR's Mumbai-Kasara line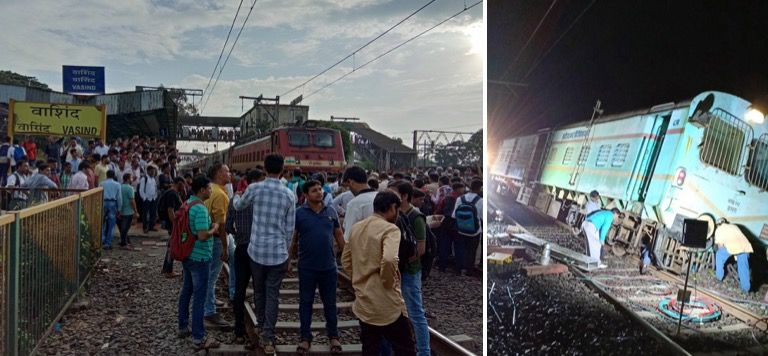 A rail inspection van servicing overhead equipment derailed near Umbarmali shortly after midnight on Friday, affecting early morning suburban train services on Central Railway's Mumbai-Kasara line.
To make matters worse, thousands of commuters launched an agitation as there were no suburban train services between Asangaon-Kasara.
Although efforts were on to clear the tracks during the morning peak hours, stranded irate commuters shouted slogans, while some ran about on the railway tracks at the Vasind station.
Others laid siege at the station manager's office demanding the restoration of services.
"Due to public agitation at Vasind, suburban trains now running up to Titwala only. Traffic remains affected between Titwala and Kasara. We appeal our esteemed Commuters to desist from such agitations as this will only prolong the restoration work which will now go up to 10-11 am," CR Chief Spokesperson Sunil Udasi said earlier today.
While RPF and GRP officials managed to subdue the protestors by 8:15 am, it had already delayed restoration work for a few hours.
"As per latest information, the agitation has ended at Vasind. We have started single line services in both directions. However, there will be delay in clearing all mail-express trains due to bunching," Udasi said.
He stated that services were affected between Titwala and Kasara for some time and appealed to the commuters to desist from agitations as it would only lead to prolonging the restoration works.
The clearing of the affected track is likely to be completed before noon, Udasi said, adding that prima facie cause of the derailment is under investigation.
At least eight mail express services were diverted, three were canceled and another eight were either short-terminated or re-scheduled due to the incident.
The details of all 19 services that were affected are given below:
Trains Diverted (JCO 14.9.2018) via Kalyan-Karjat-Lonavala-Pune-Daund-Manmad
a) 12859 Mumbai-Howrah Gitanjali Express
b) 17617 Mumbai-Hazur Sahib Nanded Tapovan Express
c) 11055 LTT-Gorakhpur Express
Trains Diverted (JCO 14.9.2018) via Diva-Vasai-Udhna-Jalgaon-Bhusaval
a) 12165 LTT-Varanasi Ratnagiri Express
b) 15017 LTT-Gorakhpur Express via Allahabad
c) 15647 LTT-Guwahati Express
d) 12534 Mumbai-Lucknow Pushpak Express
Trains Diverted (JCO 14.9.2018) via Daund-Manmad
a) 11026 Pune-Bhusaval Express
Trains Cancelled (JCO 14.9.2018)
a) 12118/12117 Manmad-LTT-Manmad Godavari Express
b) 22102/22101 Manmad-Mumbai-Manmad Rajyarani Express
c) 51153 Mumbai-Bhusaval Passenger
Trains Short Terminated
a) 11025 Bhusaval-Pune Express (JCO 14.9.2018) which is regulated at Ghoti will be short terminated at Igatpuri.
b) 12140 Nagpur-Mumbai Sewagram Express (JCO 13.9.2018) short terminated at Nasik Road and will return as 12139 Mumbai-Nagpur Sewagram Express (JCO 14.9.2018) from Nasik Road
c) 12072 Jalna-Dadar Janshatabdi Express (JCO 14.9.2018) short terminated at Manmad and will return as 12071 Dadar-Jalna Janshatabdi Express (JCO 14.9.2018) from Manmad
d) 51154 Bhusaval-Mumbai Passenger will be short terminated at Igatpuri and will return as Special train from Igatpuri to Bhusaval.
e) 12110 Manmad-Mumbai Panchvati Express short terminated at Igatpuri
Trains Rescheduled on 14.9.2018
a) 12542 LTT-Gorakhpur Express will leave at 13.20 hrs (scheduled departure 11.10 hrs)
b) 11061 LTT-Darbhanga Express will leave at 14.00 hrs (scheduled departure 12.15 hrs)
c) 11071 LTT-Varanasi Kamayani Express will leave at 14.30 hrs (scheduled departure 12.40 hrs)