FIR filed against trustees for illegal demolition of Ambedkar Bhavan in Dadar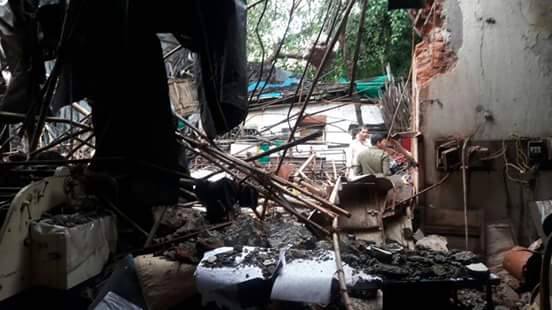 On Friday night, the trustees of the People's Improvement Trust demolished Ambedkar Bhavan in Dadar, sparking an outrage among the dalit population.
The trustees allegedly carried out the demolition without giving prior notice or protection. Reportedly, the local police was also kept in the dark about the demolition work.
To protest against the trustees' act, a huge crowd gathered outside the demolished structure and blocked the main road causing a huge traffic jam from Hindmata towards Dadar station.
The grandson of the deceased leader, Prakash Ambedkar, later filed an FIR with the Bhoiwada police against senior members of the People's Improvement Trust for carrying out demolition against his wishes. While speaking to the media he said, "It is very unfortunate as the government and a section within the Trust have hurt our sentiments. They are trying to commercialise the place in the name of building a grand Ambedkar Bhawan."
The trustees on the other hand claim that the structure was a public property and was demolished only to redevelop it. The Trust's chief Madhukar Kamble said, "It is a public property which is being redeveloped into a 17-storey structure as Dr Ambedkar Bhawan. The Trust's work will be continued from the new building. And even Prakash Ambedkar's office will be retained in the new structure along with others which were working on the premises."
He further added, "A formal decision to build a Dr B R Ambedkar Bhawan was taken on April 14. We had invited Chief Minister Devendra Fadnavis for the 'bhoomi pujan'. So, we have the sanction of the government. Moreover, the property belongs to the government."
While supporters of the deceased leader accused the BMC of playing a role in the demolition, the BMC maintained its stance and released a public statement which read, "The People Improvement Trust requested the BMC to redevelop their property, Dr Babasaheb Ambedkar Bhavan. The building proposal department processed their application and issued an 'intimation of disapproval' according to BMC norms. The trust is in the process of redeveloping the structure and its demolition is in progress. However, the BMC did not carry out the demolition."