First Aid Tips to Emergency Numbers: Everything you need to know to have a safe Diwali 2016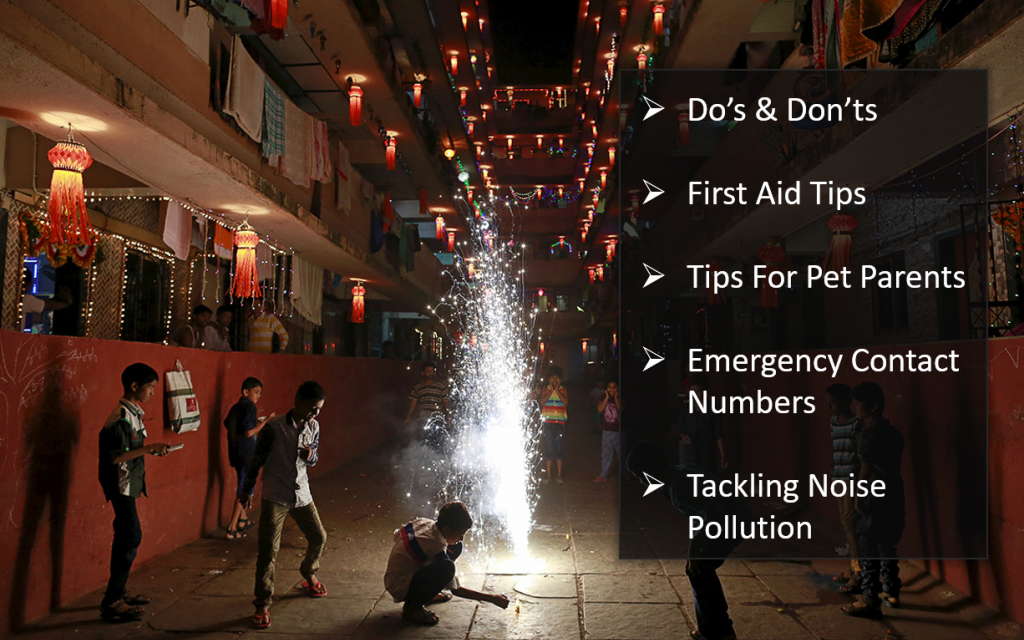 With the festival of lights right around the corner, here's a comprehensive list of everything you need to know to have a safe Diwali this year.
General Do's & Don'ts
Do's:
# Light crackers away from combustible materials like dry grass, trees, clothes and other household items.
# Have an adequate supply of water, sand or a fire extinguisher ready in case of an emergency.
# Try to keep as much distance as possible between your face and crackers while lighting.
# If bursting crackers in a group or inside a housing society, keep an emergency medical kit ready.
# Ensure others don't accidentally come near a cracker that's about to go off.
# Keep pets away from firecrackers and noise as much as possible.
Dont's:
# Don't light crackers indoors.
# Don't try to light crackers in your hand or throw at the last minute.
# If a cracker fails to ignite, give it a minute or so before you approach it.
# Don't light crackers in glass or metal containers.
# Don't allow children where people are bursting crackers.
# Don't wear extremely loose and thin clothing.
First aid tips for burn related injuries
# Immediately run the burn area under cool water for at least 10 minutes. Or apply a clean towel dampened with cool tap water. Cool the burn to help soothe the pain.
# While doing so, remove any jewelry or clothing from the affected area. Also, remove tight items from the burned area. Try to do this quickly and gently, before the area swells.
# Don't break small blisters, no bigger than your little fingernail. If blisters break, gently clean the area with mild soap and water, apply an antibiotic ointment, and cover it with a nonstick gauze bandage.
# Don't cover the affected area and let it breathe and make sure it stays untouched while healing.
# Aloe Vera gel or other soothing treatments can be applied after this initial treatment, but only if the burn is minor. It may provide relief in some cases.
# If needed, take over-the-counter pain relievers and consult our medical experts.
# If the burn is larger than your hand or the person is young, old or otherwise in frail health, take them to the emergency room immediately.
(Courtesy: seeDoc.co)
Note: If the burn is caused due to an electric shock or chemicals and anywhere on the face, scalp, joints or genitals, it is advisable to seek medical help immediately.
Tips for pet parents
The festival of lights brings joy to a billion people, but it is one of the most difficult times for animals, especially the ones that have a highly developed sense of hearing like dogs.
While one can try to persuade others to have a more animal-friendly Diwali this year, here are some tips that can help pet-owners.
# Keep a watchful eye on your pet during the entire day.
# Try to keep it indoors and don't leave it alone.
# Keep your pet well fed on Diwali night so it does not feel the urge to wander about.
# If you pet resorts to hiding under the table or sofa due to noise, don't drag them out.
# If lighting crackers yourself, try to do so on the terrace or as far away from your pet as possible.
# Use no-noise crackers around your pet.
# Make use of pet accessories to reduce the impact of noise, like ear muffs for dogs.
Emergency contact numbers
Most Essential:
# Universal: 112 (All India)
# Police: 100 (All India)
# Fire & Rescue: 101 (All India)
# Ambulance service: 102 (All India)/1298
Others:
# Citizen Helpline: 103
# Disaster management: 108
# Senior Citizen Helpline: 1090
# Child Helpline: 1098
# Blood Bank: 1910
# Disaster Management Cell: 022 2269 4725
# Traffic Police: 022 2493 7755
Public Hospitals:
# KEM Hospital Parel: 022 2413 1763
# Lokmanya Tilak Hospital, Sion: 022 2407 6381
# Sir JJ Hospital Byculla: 022 2373 9031
# Thane Civil Hospital: 022 2547 2582
# MIDC Hospital Andheri: 022 2634 3772
# Centenary Hospital Kandivali: 022 2805 0882
Tackling noise pollution
Permissible noise limit:
Use of fire crackers generating noise level exceeding 125 decibels is prohibited. The permissible limits for serial firecrackers ranges between 90 to 110 decibels.
Note: Noise levels are recorded five metres from the point of bursting.
Pre-Diwali measurements:
The Maharashtra Pollution Control Board (MPCB) and Awaaz Foundation, a non-government organisation, conducted their annual pre-Diwali inspection at Royal Chemical Fertilizer (RCF) Colony in Chembur earlier this month.
Out of 26 types of firecrackers that are available in the market, only two were found violating the permissible limit of 125 decibels. As the result, the remaining 24 were approved and details about the other two were forwarded to the Controller of Explosives for further action.
The number of violations found during the pre-Diwali checks this year are reportedly lower than most previous years.
Having said that, the MPCB and Awaaz volunteers have only tested crackers that are allowed to be legally sold in India. Since it is prohibited to possess or sell crackers imported from other countries, they have not been tested.
Also, for the first time, MPCB will be recording the noise levels at 158 locations in 26 municipal corporations across Maharashtra along with the air quality this year.
Checking noise levels:
While government agencies use approved sound level meters to measure noise, citizens can use their smartphone to get a fairly accurate estimate.
Free apps like 'Sound Meter' can give a good estimate about the sound level and are available for free on both Android and iOS.
Complaining about noise pollution:
Before you complain, it is advisable to measure the noise level on your smartphone and take a screenshot of the same for future reference.
# Violations can be reported by dialling 100 and filing a complaint with Police Control Room.
# After providing the necessary details, make sure to note down the complaint number.
# If the noise does not subside, either tweet to Mumbai Police's official twitter handle (@MumbaiPolice) or lodge a complaint on their website (https://mumbaipolice.maharashtra.gov.in/complaint.asp)
# Follow up again if required and ensure you get another complaint number each time you do.
Post complaining to the police, a copy of the same can also be forwarded to Awaaz Foundation by sending an email or posting on their Facebook page (https://www.facebook.com/GetWellSoonMumbai/)
Complaints can also be escalated to high ranking officials like Assistant Commissioner of Police and Deputy Commissioner of Police by sending an email on their official address. The list of emails is available on Mumbai Police's official website.
If mailing, remember to specify all possible information like time, location, violation etc.
Areas with least and most noise pollution:
While it's not possible to say for sure which places will be the noisiest, last year's levels are a good indicator.
In 2015, areas like Trombay, Mantralaya, Versova, Dindoshi and Ghatkopar East clocked the highest noise levels on Diwali night. In contrast, areas like Dadar Hindu Colony, Matunga, Borivali East, Kurla, Sewri and Vashi Sector 9 saw the lowest noise levels.
Complete list of noise levels during Diwali 2015 across Mumbai, Vashi and Thane can be found here.